Taps Coogan – June 8th, 2022
Enjoy The Sounding Line? Click here to subscribe for free.
Consumer inflation is currently clocking in at 8.1% in the Eurozone. That represents the highest reading since the creation of the Euro and the tenth consecutive month where inflation has exceeded the ECB's 2% target.
Despite all that, the ECB is still holding benchmark interest rates at negative levels and is still expanding its balance sheet (via their APP – Asset Purchase Program), as the following chart from True Insights highlights.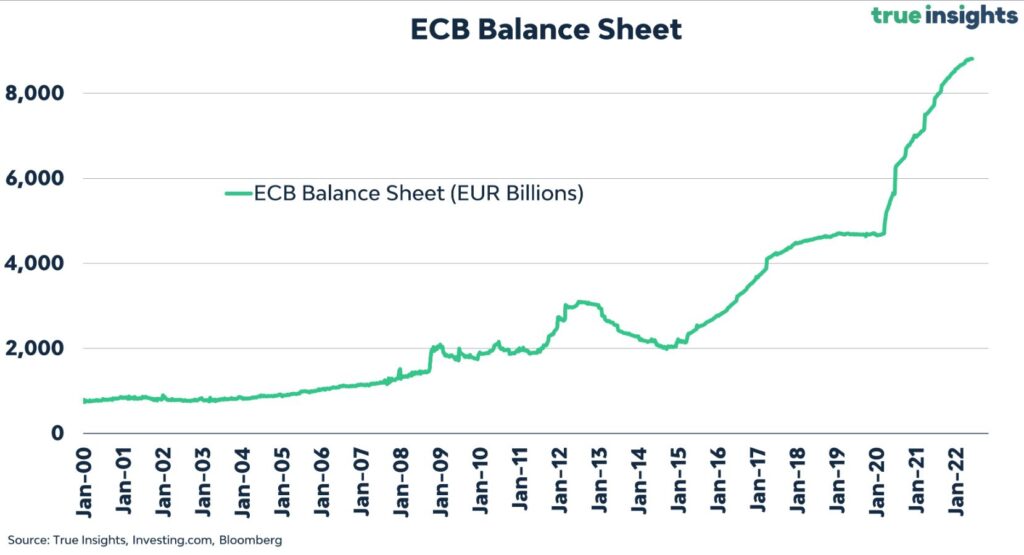 With the ECB's own forecasts not showing inflation returning to their 2% target until 2024, they have finally signaled a deadline to end their balance sheet expansion. ECB chief Christine Lagarde has suggested that that deadline will be "very early in the third quarter" and that interest rate hikes will only commence after balance sheet expansion has halted.
In other words, with inflation at 8.1%, the ECB plans to stop adding fuel to the fire in a month or two.
The lackadaisical response from the ECB to inflation wildly in excess of target, as compared to their radical response to inflation fractionally below target in prior years, is the best evidence that policy makers still do not understand the gravity of the situation or their role in creating it.
Remember, in the 1970s and 1980s tight monetary policy was a positive real benchmark rate.
Would you like to be notified when we publish a new article on The Sounding Line? Click here to subscribe for free.