Taps Coogan – June 9th, 2022
Enjoy The Sounding Line? Click here to subscribe for free.
Beleaguered by the soaring cost of energy imports, Germany's famed trade surplus has all but evaporated since the start of 2021 as the following chart via Holger Zschaepitz highlights.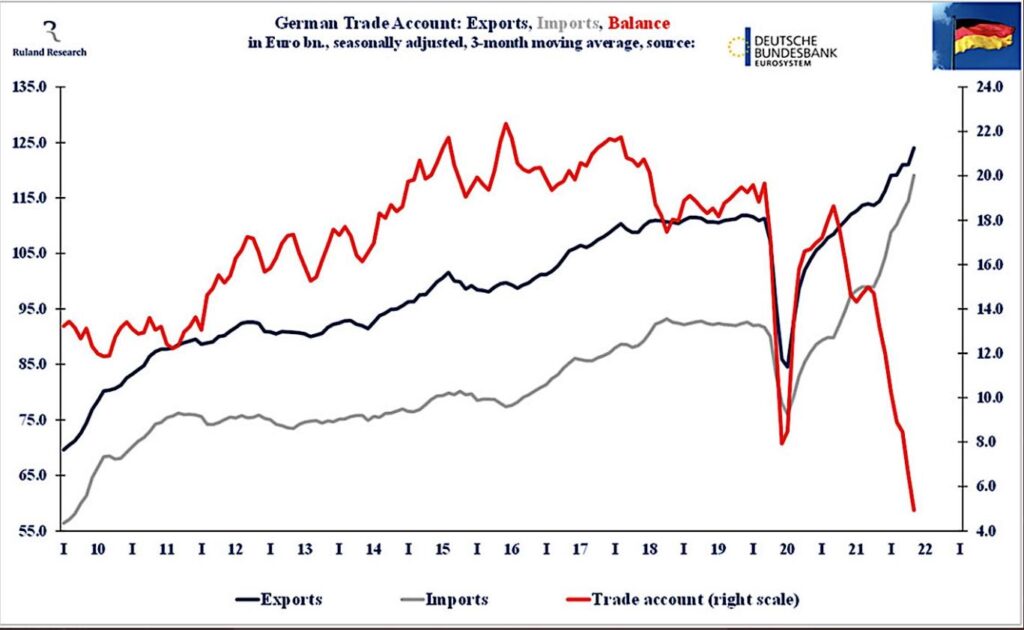 While German exports have risen to record levels, imports have risen much faster, highlighting Germany's deep dependency on energy imports.
Compounding its problems, inflation in the Eurozone exceeds 8% while benchmark overnight rates remain negative and the ECB's QE program still winds down. In other words, the monetary tightening cycle has very, very far to go. With little chance for fiscal stimulus to cushion the process- lest it further exacerbate inflation – and little chance of a quick increase in global oil and gas production thanks to energy producers and investors having been battered by years of low prices, vilification, and regulatory sabotage, the only path to equilibrium is likely to be demand destruction. In other words: a recession.
Speaking of demand destruction, or the lack there of, China is finally emerging from its lockdowns (for now), meaning the world's largest oil importer is likely to see demand recovery at a time of already high prices.
Meanwhile, Germany's working age population is shrinking and aging. Oh, and sovereign yields are grinding higher across the Eurozone.
German, Italian, and Greek 10-Year Yields
Would you like to be notified when we publish a new article on The Sounding Line? Click here to subscribe for free.