Submitted by Taps Coogan on the 6th of February 2016 to The Sounding Line.
Like never before, the EU is on a precipice.
First there is Greece:
In a near identical replay of previous crises, Greece has failed to meet the conditions required to secure further bailout assistance from the Troika (here). For anyone keeping track, the Greek debt crisis started with a debt of 329 billion euro in 2010 (148% of GDP). Seven years later and at least 435 billion euro of debt re-profiling, new loans, and bailout money, and Greece still has a debt of 328 billion euro. Meanwhile, the economy has shrunk by 45% as a result of austerity and mismanagement, pushing their debt to 178% of GDP. However bad the Greek debt crisis was when it started in 2010, it is worse now. So is the Greek economy (here). It is only a matter of time; Greece will default.
Then there is France:
Francois Fillon, the center right candidate, who is (or perhaps was) France's best chance to defeat anti-EU Marine Le Pen, is now busy explaining why he will remain in the race despite revelations that he put family members on the government payroll to the tune of hundreds of thousands of euro for doing essentially nothing (here).
Then there is the Netherlands:
Anti-EU Dutch politician Geert Wilder, who's popularity has surged since being convicted of hate speak for seeking lower levels of immigration from Morocco (here), is poised to win the Dutch parliamentary election next month (here).
Then there is Italy:
After Mateo Renzi stepped down following the failure of his constitutional referendum late last year, appointed Italian Prime Minister Sergio Mattarella is expected to call for an early election. According to polling, the anti-Euro Five Star party is now within 3% of the establishment Democratic Party. Recall that the Brexit 'Leave' camp and Trump campaign lagged by equal amounts on the eve of their victories. Meanwhile, the recently created Italian bank rescue fund is imploding. Italy's largest bank, UniCredit, has written off 700 million euro it invested in the rescue fund. That fund, created to backstop banks drowning in non-performing loans, has itself becoming a non-performing asset. Meanwhile UniCredit is at risk of failing European capital requirements and needs to secure additional funding. Just as Italy's largest bank struggles to meet capital requirements, it is giving up on the country's bank bailout fund (here).
In Portugal, the Organization for Economic Co-operation and Development (OECD), is warning that the highly indebted country is increasingly at risk due to global and European economic fluctuations. Portugal's economy is expected to clock an anemic 1.2% GDP growth in 2017 and 1.3% in 2018.
Putting it together:
When Greece defaults it will likely be the largest in recorded history. With a debt of 328 billion euro it could be bigger than the combined defaults of Russia, Pakistan, Ukraine, Venezuela (following the 1997 Asian currency crisis ~$73 billion), and Argentina (in 2001 ~$82 billion). Many argue that the 're-profiling' of Greek debt is already the largest default in history. With the Italian and Portuguese banks on the ropes, a Greek default could cause a cascade of other defaults.
If just one of the aforementioned anti-EU candidates win, speculation will surge about their country leaving the Eurozone. What will happen to their Euro-dominated debts? Some form of default is a likely outcome.
The departure and default by a Eurozone member within the next 10 years is entirely plausible, if not probable. And yet Eurozone sovereign yields are mind-mindbogglingly low. Perhaps it is a psychological refusal to accept the real risks in the Eurozone or maybe just the ECB's endless QE programs, but yields on French 10 year sovereign debt is trading at 1.116%, Denmark's at 0.333% and Italy at 2.366%. I would venture to say that the probability of Italy leaving and defaulting on its sovereign debt within the next 10 years is a whole lot higher than 2.33%.
FRANCE 10-Year Sovereign Yield: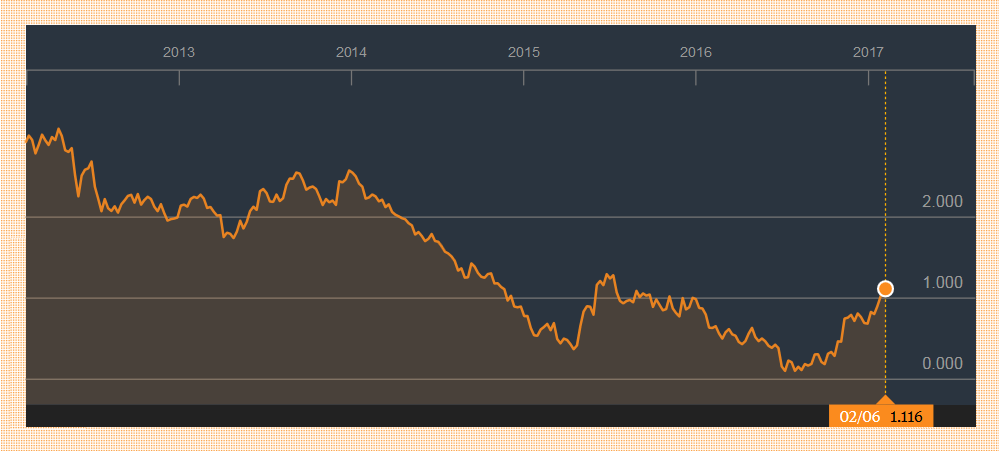 Italy 10-Year Sovereign Yield: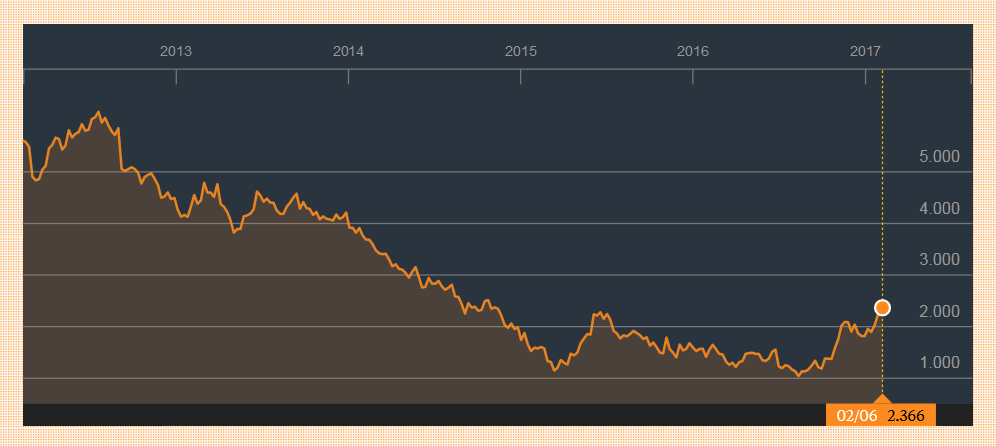 Greece 10 Year Bond Yield: