Taps Coogan – March 19th, 2021
Enjoy The Sounding Line? Click here to subscribe.
The ten year commodity bear market that started in 2011 has given bulls plenty of time to contemplate what conditions would permit the return of a bull market in commodities.
First among those conditions has always been working through the excess inventory that built up in the various commodity markets during the 2010s.
Along those lines, the following chart from Rabobank highlights how inventories of major food staples in the world's exports have fallen over the last two years, plummeting from (nearly) the highest to the lowest level in at least 20 years.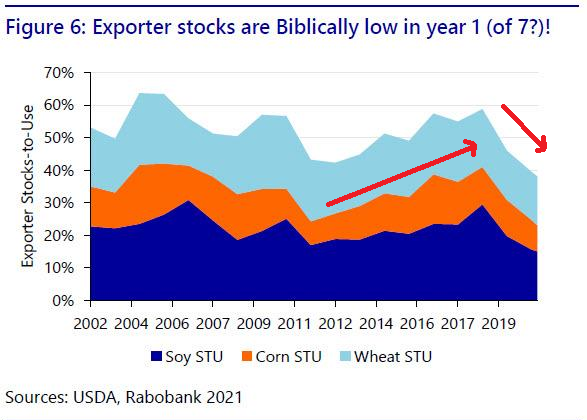 As we recently noted, global food prices are up 22% since 2019 and are rising multiple percent per month.
Whereas growing overcapacity may have defined commodity markets over the past decade, those days are over.
Would you like to be notified when we publish a new article on The Sounding Line? Click here to subscribe for free. The Sounding Line is now ad free and 100% reader supported. Thank you to everyone who has donated.