Taps Coogan – September 1st, 2022
Enjoy The Sounding Line? Click here to subscribe for free.
After extraordinary advances, German wholesale year-ahead power prices have finally snapped lower and have fallen by nearly half relative to the +1,000 euro/MWh peak set a few days ago, as the following chart of year-ahead prices from Holger Zschaepitz highlights. Similar, albeit more volatile, declines have occurred for next-day power.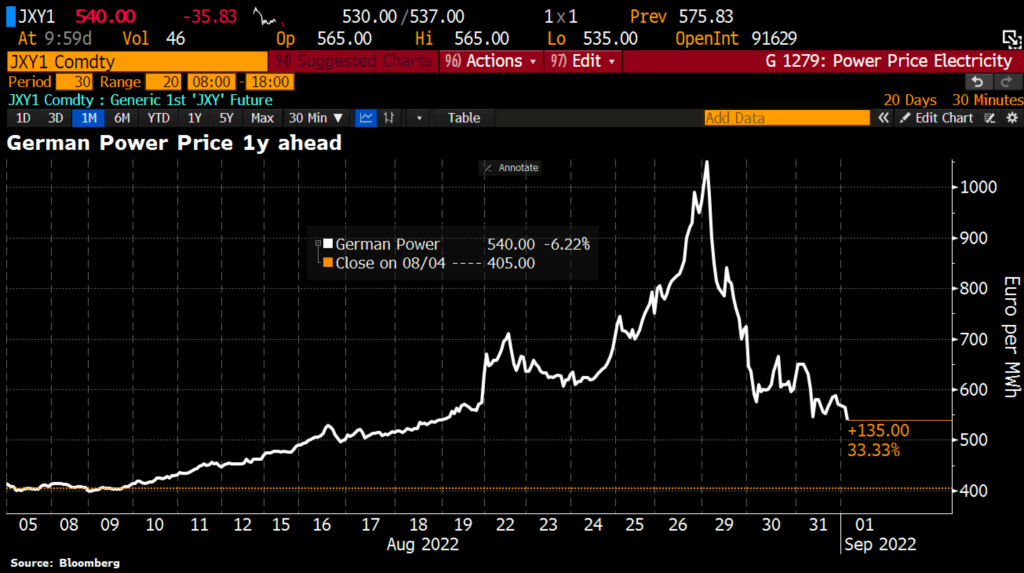 As long time readers are likely aware, we've been railing on for years about the challenges in US shale maintaining oil and gas output growth, underinvestment in energy infrastructure globally, Germany's terrible decision to choose Nord Stream 2 over LNG import terminals, the foolishness of retiring nuclear plants early, and so on.
We haven't been the least bit surprised by the energy crunch in Europe, nor that natural gas is the focal point. Benchmark European natural gas prices were already up 1,270% before Russia launched its invasion of Ukraine. Post-invasion, European natural gas prices have tripled from those already high levels.
Despite all that, the rise in European power prices has probably become excessive. Sentiment has swung from viewing natural gas as irrelevant to, we believe, now pricing in close to a worst case scenario of a cold winter and total halt of Russian supplies. That may very well happen, but even in that case, the price of power and gas won't be infinite as demand will be severely curtailed.
Getting back to a solid 'energy' footing in Europe will take years and a totally different political mindset, but in the short term, don't underestimate how much demand destruction a recession or a mild winter can create. Furthermore, Russia is making out like a bandit by selling gas while constantly feinting a total cut off of supplies. They will make exactly nothing if they actually stop supplying gas to Europe. They don't yet have the infrastructure to reroute that gas to Asia or elsewhere.
Would you like to be notified when we publish a new article on The Sounding Line? Click here to subscribe for free.