Taps Coogan – April 11th, 2021
Enjoy The Sounding Line? Click here to subscribe.
This time last month, we noted that global food prices had risen roughly 22% since 2019 and had jumped roughly 7% in just February. Well, one month later and the UN's FAO Global Food Price Index has risen by another 2.5%, from 116 to 118.5, as the following chart from Statista highlights.
As the UN's FAO notes, this marks the 10th straight month of rising food inflation with staples like cereals and vegetable oils leading the push higher.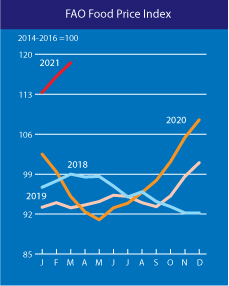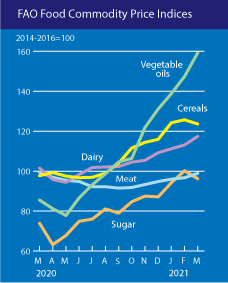 The last time global food prices rose like this, the early 2010s, it set off a series of conflicts throughout the Middle East and elsewhere known generally as the 'Arab Spring.'
Would you like to be notified when we publish a new article on The Sounding Line? Click here to subscribe for free. Also, please consider sharing this article so that we can grow The Sounding Line!