Submitted by Taps Coogan on the 28th of July 2017 to The Sounding Line.
Back in March 2016 we first wrote about China's worsening trade position, noting that both imports and exports were in the midst of the second largest decline on record.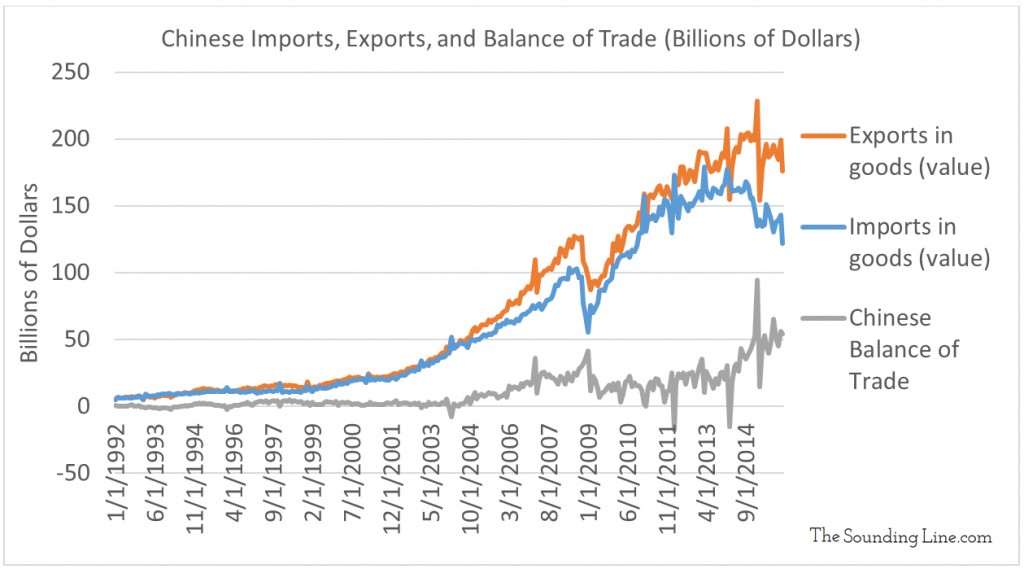 Since then, the news coming out of China has only grown more concerning. In May 2017 we highlighted the gargantuan ponzi scheme of 'asset management products' that has emerged in China in recent years:
"Chinese banks and insurance companies have issued nearly $10 trillion in 'asset management products' (80% of Chinese GDP) and implicitly guaranteed the returns to the tune of 4.3% a year. Implicitly guaranteeing such high 'risk free' returns on such a large amount of capital is completely unsustainable but banks regularly make up the difference when actual results fall short of advertised returns. Regulators are getting wise to the risks and clamping down on the practice but issuers are now warning that they cannot continue to meet payouts unless they are permitted to continue issuing new products. Zerohedge puts it perfectly and it's no exaggeration: "This is the definition of a ponzi scheme," a ponzi scheme 80% the size of China's GDP. It is hard to imagine how this problem resolves itself amicably. Investors be warned."
Then it was renowned analyst and author, James Rickards, who warned that China is 'going broke' and 'running out of hard cash:'
"China had basically a $4 trillion reserve at the end of 2014. Today that number is about $2.9 trillion. In other words, they have lost about $1.1 trillion in their reserve position in… not quite two years. So the reserves are going out the door. Now people say 'well you've got $2.9 trillion left, isn't that a lot of money?' Well it is a lot of money, except of the $2.9 trillion, about $1 trillion of that is not liquid, meaning, it's wealth of some kind, it represents investment, but China wanted to improve their returns… So they invested in hedge funds. They invested in private equity funds, they made direct investments in gold mines in Zambia and so forth. So about a trillion of that is wealth but its not liquid. So now we are down to $1.9 trillion liquid. Well about another trillion is going to have to be held as a precautionary reserve to bailout the Chinese banking system. If you look at the Chinese banking system, private estimates are that the bad debts are 25% of the total assets… So you have to put $1 trillion to the side for when the time comes to bail out the banking system. Well now you are down to $900 billion… Now you only have $900 billion of liquid assets to defend you currency, to prop of the Chinese Yuan. The problem is that the reserves are going out the door at a rate of… $50 to $100 billion a month. I'm (China) going be broke at the end of 2017. That's what I mean by China is going to go broke…"
Then there is the ongoing news that labor disputes in China, a highly sensitive subject, have surged over 118% as demands for higher pay and better conditions run into a slowing and shifting economic landscape:
You will find more statistics at Statista
Perhaps the most concerning news of all developments is that China has become the second largest source of millionaire emigrants.  A new report from Hurun Report Inc., concludes that over half of Chinese citizens with a net worth over $1.5 million are considering emigrating from China, with a shocking 84% citing the depreciation of the Chinese yuan as a principal concern.
You will find more statistics at Statista
China is the world's second largest economy, the largest consumer of most industrial commodities, and an engine of global growth. A serious disruption to the Chinese economy will have seismic implications for the global economy. The emigration of Chinese capital has already left its mark in surging home prices in cities in the US, Canada, and Australia, as well as the explosion in crypto-currencies.
P.S. We have added email distribution for The Sounding Line. If you would like to be updated via email when we post a new article, please click here. It's free and we won't send any promotional materials.