Submitted by Taps Coogan on the 15th of August 2019 to The Sounding Line.
Enjoy The Sounding Line? Click here to subscribe.
While the Federal Reserve and other central banks around the world are busy cutting interest rates and lowering bank reserve ratio requirements, one interest rate keeps climbing: the rate on US credit cards. As the following chart from Statista shows, US commercial bank credit card interest rates hit a two decade high of 16.91% in the first quarter of 2019.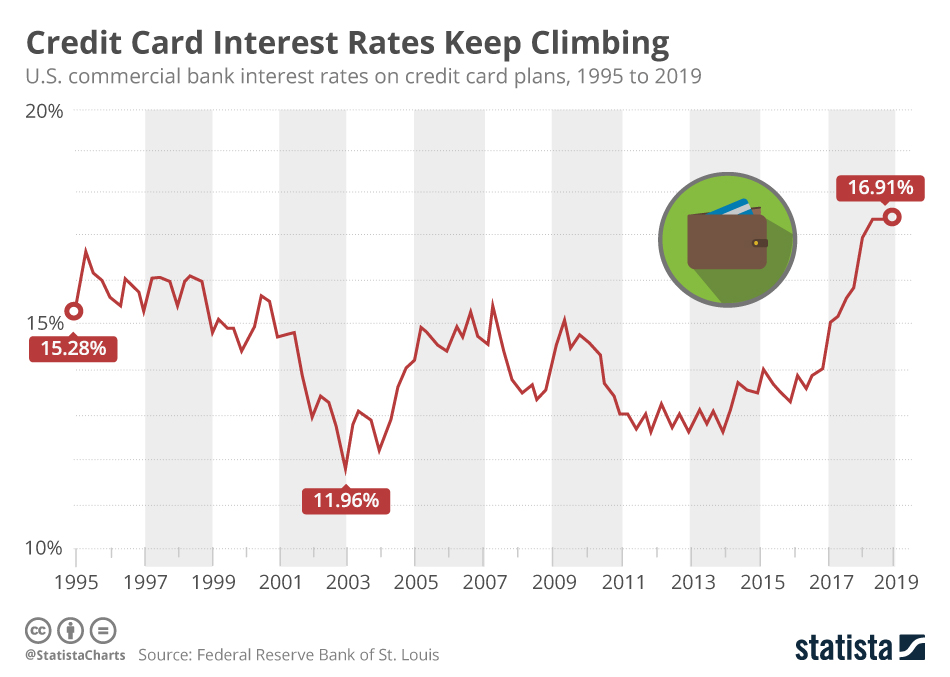 The recent surge in credit card rates is the result of several factors: many Americans don't pay attention to their credit cards rates, default rates are rising, and new limits have been imposed on credit card companies' ability to raise rates on existing balances.
The average American household has roughly $5,700 in credit card debt and incurs nearly a thousand dollars a year in credit card interest expenses. Despite a decade of the most accommodative monetary policy in history, there has been essentially no relief for families struggling with credit card debt. It's another reminder of just how ineffectual accomodative monetary policy is in the real economy.
Would you like to be notified when we publish a new article on The Sounding Line? Click here to subscribe for free.