Submitted by Taps Coogan on the 6th of September 2019 to The Sounding Line.
Enjoy The Sounding Line? Click here to subscribe.
The Federal Reserve was founded in 1913 with the sole mandate of maintaining price stability in the United States economy. Since then, the purchasing power of the US dollar has fallen by over 96%, as the following chart from the cost-estimation website HowMuch.net shows. Conversely, prices on goods and services in the US economy have risen by over 2,500% since 1913.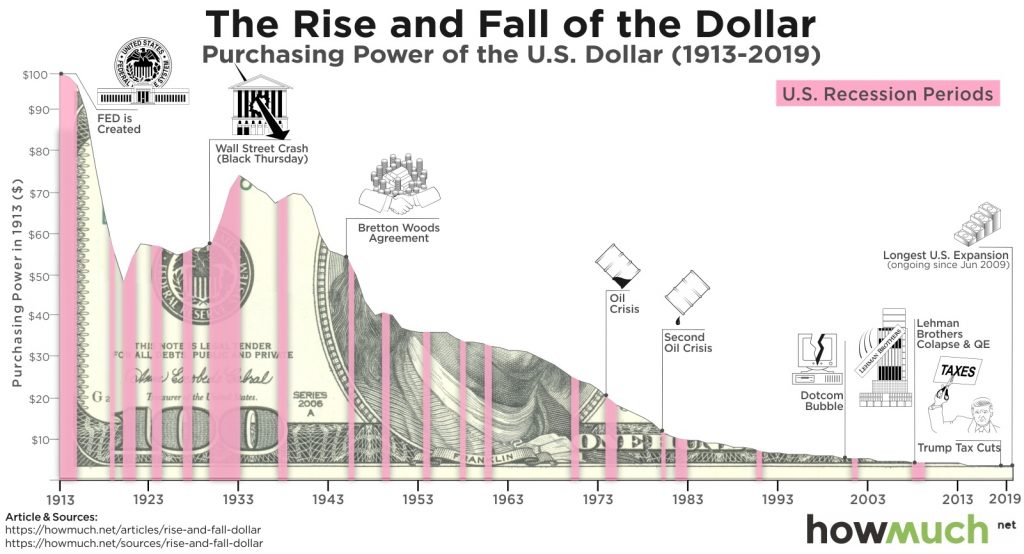 Of course, the Fed has come to interpret 'price stability' as meaning a stable rate of increase in prices, i.e. a stable rate of inflation. In fact, they perceive a lack of 2% inflation as being the preeminent economic challenge facing the global economy today, completely disregarding the fact that inflation can be caused by many varying economic conditions, some good, many bad.
Would you like to be notified when we publish a new article on The Sounding Line? Click here to subscribe for free.