Taps Coogan – June 30th, 2022
Enjoy The Sounding Line? Click here to subscribe for free.
The following chart, from the EIA via Art Brennen, shows the decline of refining capacity in the US. As Mr. Brennen notes, LyondellBassell and Phillips 66 both plan to close refineries in Houston and California in the coming year, which will reduce US refining capacity by another roughly 400,000 barrels per day.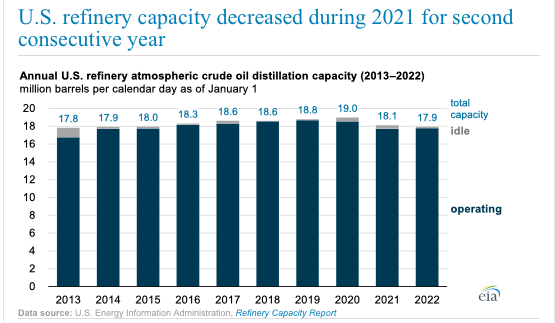 US refining capacity has fallen by nearly 6% since 2020 and hit its lowest level since 2014. Meanwhile, demand for refined products in the US continues to hit record highs.
Practically speaking, it is impossible to build a refinery in the US. Investors are not going to back a multi-billion dollar project that will take nearly a decade to complete, immediately become beset by regulatory sabotage and lawsuits, be subject to unpredictable changes in environmental rules, and all to make a product everyone is vilifying (and then using). As Chevron's CEO recently noted in an interview with CNBC, the US is unlikely to ever build another refinery.
Whatever happens on the crude oil front, there is a shortage of domestic refining capacity that isn't going away. That means increasing dependency on fuel imports from countries with worse environmental standards and higher fuel prices than otherwise implied by crude prices for as far as the eye can see.
Would you like to be notified when we publish a new article on The Sounding Line? Click here to subscribe for free.