Taps Coogan – April 14th, 2021
Enjoy The Sounding Line? Click here to subscribe.
Jesse Felder of the Felder Report recently spoke with MacroVoices' Erik Townsend about his outlook for markets and the economy. He describes his concerns that rising inflation, interest rates, and energy prices are likely to put pressure on corporate profits and tighten financial condition by mid 2022 in a wide-ranging and detailed discussion.
In the interview, Jesse Felder shares the following chart. It shows the relationship between the S&P 500 earnings and 'The Felder Report' leading indicator (TFR) which is a blend of the US dollar, oil prices, and interest rates. As the chart shows, the TFR (shifted forward by 12 months) is fairly well correlated to the year-over-year change in S&P 500 earnings. In other words, large increases in the US dollar, oil, and interest rates tend to compress corporate earnings about two years later. Based on that, earnings may rise for the balance of 2021 before running into trouble next year. Of note, the TFR behaved similarly in the after Global Financial Crisis, and while 2010 was a volatile year for markets, it was hardly apocalyptic.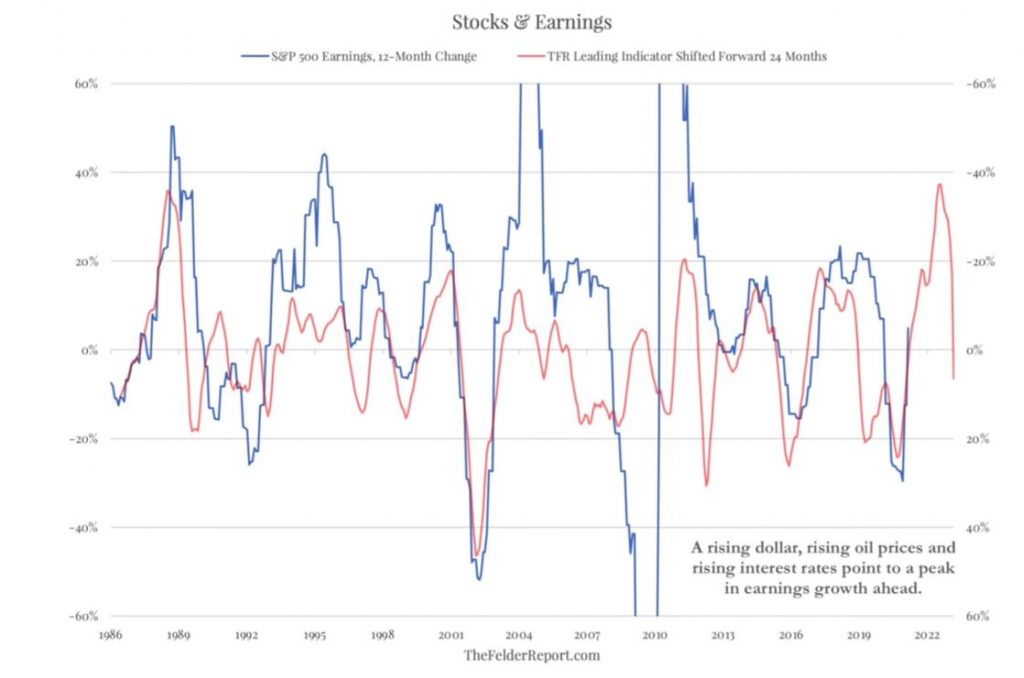 Time will tell.
Would you like to be notified when we publish a new article on The Sounding Line? Click here to subscribe for free. Also, please consider sharing this article so that we can grow The Sounding Line!