Taps Coogan – April 15th, 2021
Enjoy The Sounding Line? Click here to subscribe.
The following chart, from Crescat Capital's Otavio (Tavi) Costa, shows what happened to CPI inflation during the era of the Spanish Flu.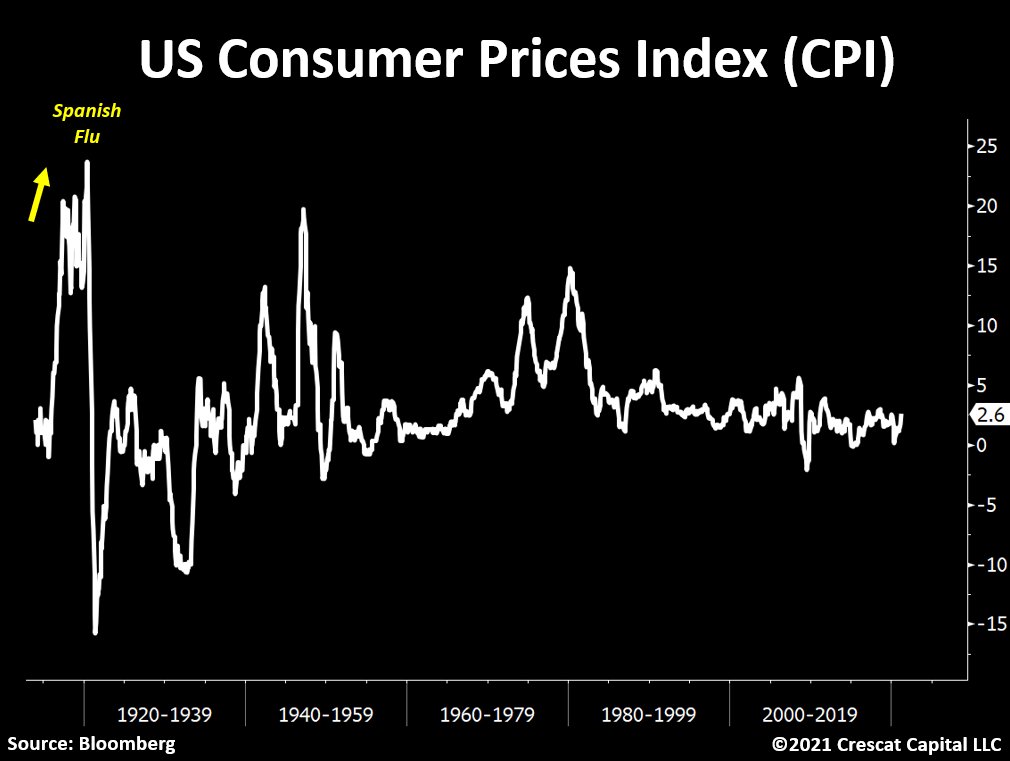 For the record, the dramatic rise of CPI to nearly 25% in 1919 probably had more to do with the ending of World War I in November 1918 than the Spanish Flu. The dramatic decline in CPI in 1920 was the result of the Depression of 1920, a severe but short depression also typically attributed to the end of World War I. How much the Spanish flu drove the trends on the chart above is debatable.
Nonetheless, virtually everyone, including the Fed, has conceded that inflation is going to spike well past 2% this summer. However, it is worth remembering that the spike in inflation in 1918-1919 did not lead to a decade of runaway inflation. It led to a deflationary depression.
The most deflationary force in the universe is the collision of an over indebted/financialized economy and too much inflation. That is the ultimate irony of post-modern monetary policy. While extremely accommodative policy is 'simulative' in the short term, it reinforces the deflationary reaction to the inflation it seeks to produce. That dichotomy is coming to a head, perhaps as early as this summer.
Would you like to be notified when we publish a new article on The Sounding Line? Click here to subscribe for free. The Sounding Line is now ad free and 100% reader supported. Thank you to everyone who has donated.