Submitted by Taps Coogan on the 14th of April 2017 to The Sounding Line.
President Trump appears to have made significant inroads with Chinese President Xi Jinping. Since their meeting last week, and in a major reversal, China abstained from vetoing a UN Security Council resolution on the Syrian gas attack, threatened North Korea to not escalate the conflict, and has been turning away North Korean coal imports in favor of imports from the US.
In turn, Trump has stated he will not label China a currency manipulator and that some trade deficit with China would be acceptable, if China assists the US in resolving the North Korean crisis.
This all seems like a very positive and swift improvement of bi-lateral relations. While Trump's statements may be in conflict with earlier positions, in all likelihood, China has been expending great sums of its foreign reserves keeping its currency from losing value (not trying to cheapen it), and the US balance of trade with China is unlikely to be completely balanced anytime soon.
Nonetheless, if the US seriously wants to balance its trade deficit, it must reduce its trade deficit with China. As the following chart shows, the US trade deficit in goods and services with China is larger than with the rest of the world combined. In other words, if the US balanced its trade with every other country in the world, but didn't improve its deficit with China, the US would still have a large $190 billion trade deficit. Put differently, the total combined trade surpluses that the US has around the world are smaller than the US trade deficit with just China (the US maintains trade surpluses with the UK, Australia, Belgium, the Netherlands, the UAE, Saudi Arabia and many other countries).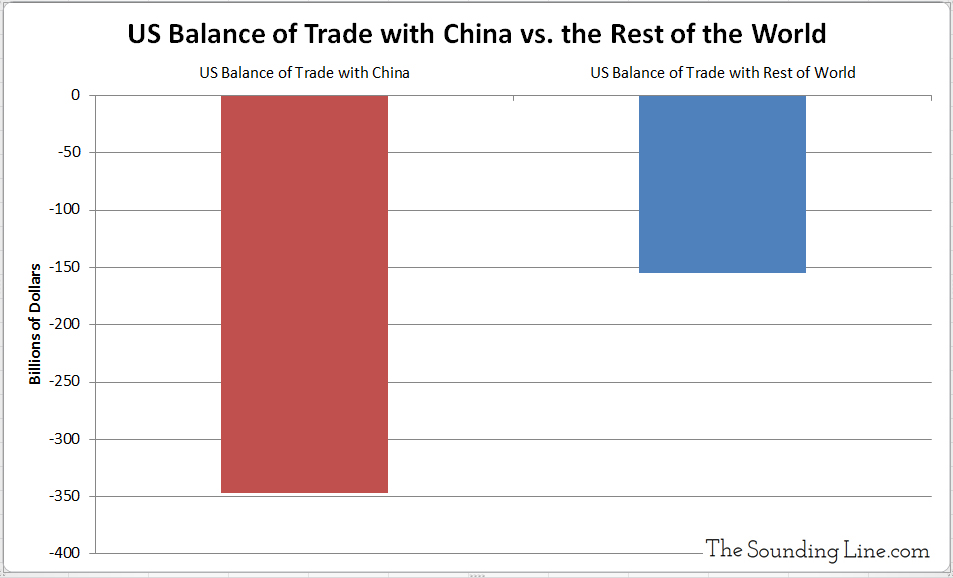 P.S. We have added email distribution for The Sounding Line. If you would like to be updated via email when we post a new article, please click here. It's free and we won't send any promotional materials.