Submitted by Taps Coogan on the 15th of May 2018 to The Sounding Line.
With the US and China oscillating between increased trade tension and renewed hope for a negotiated deal, it is worth reflecting on what the largest US imports actually are. In order to answer that question, the following map from HowMuch.net shows the largest foreign import (by value) for every state in the US.
Keep in mind that these figures represent the largest import for each state not the total imports for each state. All together the foreign imports represented above constitute about $263 billion worth of goods, just under 10% of all US imports in 2017 ($2.7 trillion).
The ten largest import sectors are:
| | | |
| --- | --- | --- |
| State | Sector | Value |
| California | Cars | $36.5 billion |
| Texas | Crude Oil | $34.6 billion |
| New York | Diamonds | $20.3 billion |
| Illinois | Crude Oil | $19.92 billion |
| Michigan | Cars | $18.4 billion |
| Louisiana | Crude Oil | $15.95 billion |
| Tennessee | Medicines | $9.3 billion |
| Pennsylvania | Crude Oil | $9.2 billion |
| Georgia | Cars | $9.1 billion |
| Maryland | Cars | $8.4 billion |
Sixteen states have crude oil or gasoline as their largest import, ten states have cars or engine parts as their largest import, seven states mostly clustered in the Midwest have medicine as their largest import, and five states have electronic components as their largest import. The remaining states import a smattering of goods like diamonds in New York ($20.2 billion), electricity in Maine ($215 million), and beef in South Dakota ($140 million). Quite skeptically, it appears that the largest import to Washington DC is $19 million of peanuts. Apparently foreign political 'donations' don't count as imports.
As HowMuch.net notes:
"Perhaps the most surprising fact is that so many states import the same type of goods that they export. For example, Texas simultaneously imports $34,559M in crude oil and exports $23,365M in petroleum oil each year. And it's not just oil—the same can be said about other industries as well. Tennessee imports $9,332M of medicine each year and exports medical appliances at about $2,320M. Diamonds top the charts in both imports and exports for New York. Computer parts and electronics move in and out of New Mexico more than any other industry.Mexico more than any other industry."
"There are a couple of possible explanations for this phenomenon. First off, things like crude oil are always priced and sold on the global market. That means a Texas oilman can sell his product to a global distributor in Houston, then get his truck's oil changed with stuff that actually originated in Saudi Arabia. Second, and more importantly, the U.S. Census Bureau calculates imports as the "final" place something is purchased, but that's not necessarily where it is consumed or used. For example, a company in Texas might buy crude oil from abroad, then process it in one of its 30 refineries, and then sell it to another company which ships it to a different state where it is actually used. The crude oil still counts as an import for Texas but it would take a whole separate article to track where the resulting petroleum products are actually consumed."
As we recently discussed in more detail here, the following map, also from HowMuch.net, shows the top export of every state.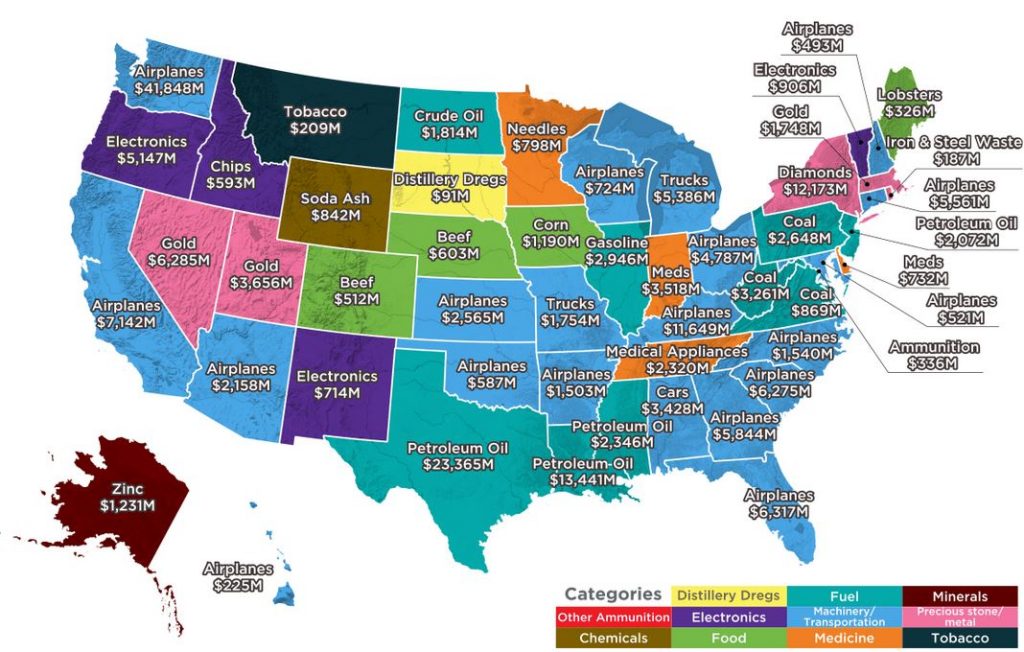 P.S. If you would like to be updated via email when we post a new article, please click here. It's free and we won't send any promotional materials.