Submitted by Taps Coogan on the 14th of May 2018 to The Sounding Line.
Enjoy The Sounding Line? Click here to subscribe for free.
As we recently discussed here, the world is in the midst of an unprecedented population shift. Having overtaken Europe in 2000, the population of Africa is expanding at a record breaking pace and is expected to more than triple by the end of the century. In order to understand just how exceptional the current population explosion in Africa is, the following visuals from Metrocosm show historical population distributions from previous centuries and forecasts until 2100 based on UN data.
The first interactive graphic shows a map of the world with each country's size stretched according to its population relative to the rest of the world. Select a year at the top to see how the population of the world looked from 1800 AD.
The following graph shows the percentage of the world's population living in each continent going back to 400 AD.
As the graph above illustrates, Asia has represented roughly 70% or more of the world's population from 400 BC until 1800 AD with Europe oscillating between roughly 10% and 20% and Africa oscillating between 5% and slightly over 10%. Over the next hundred years Africa's population is expected to rise to around 35% of the world's population. Such a shift in population distribution has never been seen before and, given that much of Africa remains economically underdeveloped and a major food importer, the challenge of supporting such large increases in population will be immense.
As we first discussed here, the total area of land being used for agriculture around the world peaked around 2000 and Africa's agricultural yields remain far lower than the rest of the world's and have seen little improvement in past decades.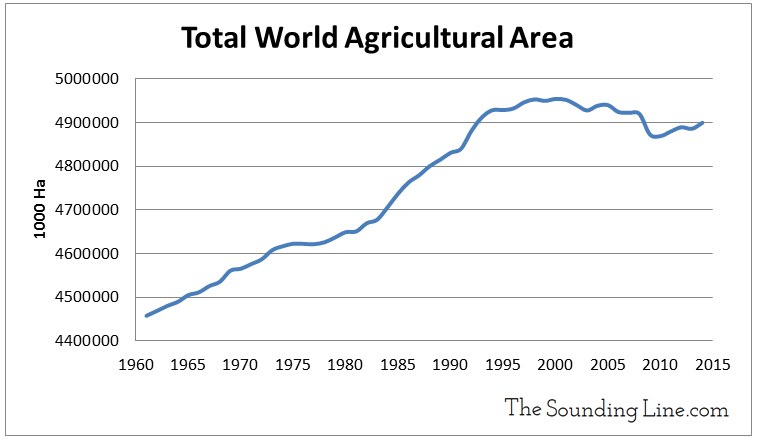 Even if Africa's agricultural yields are somehow brought in line with the rest of the world, it will take large increases in overall global agricultural productivity along with massive food imports to feed Africa's growing population.
As we have noted previously, estimates of anything several decades into the future should be taken with a grain of salt. Depending on Africa's ability to meet its economic and food supply challenges, the UN may be correct about the origin of future population growth but not its destination.
To view the flow of immigration to and from every country in the world, check out this article.
P.S. If you would like to be updated via email when we post a new article, please click here. It's free and we won't send any promotional materials.