Submitted by Taps Coogan on the 27th of February to The Sounding Line.
According to data from the European Parliamentary Research Service, the economic productivity of EU citizens became significantly more unequal in the decade from 2004 to 2014.  As the following graphic shows, the percentage of EU citizens generating less than 90% of the average GDP per capita (measured via Purchasing Power Standard) has risen from 38% in 2004 to 45% in 2014. Meanwhile, the percentage of people generating more than 105% of the average GDP shrunk from 44% in 2004 to 40% in 2014. The percentage of people generating between 91% and 105% of average GDP shrunk from 19% to 15%. In other words, a greater portion of the EU, both in terms of population and area, generated less than average GDP while a smaller portion generated average or above average. This means that the EU is comprised of an increasingly small collection of increasing productive areas surrounded by growing areas of lower than average productivity. This is essentially the definition of increasing geographic economic inequality. The only silver lining is that the lowest category, those producing less than 70% of average GDP, shrunk by 2%.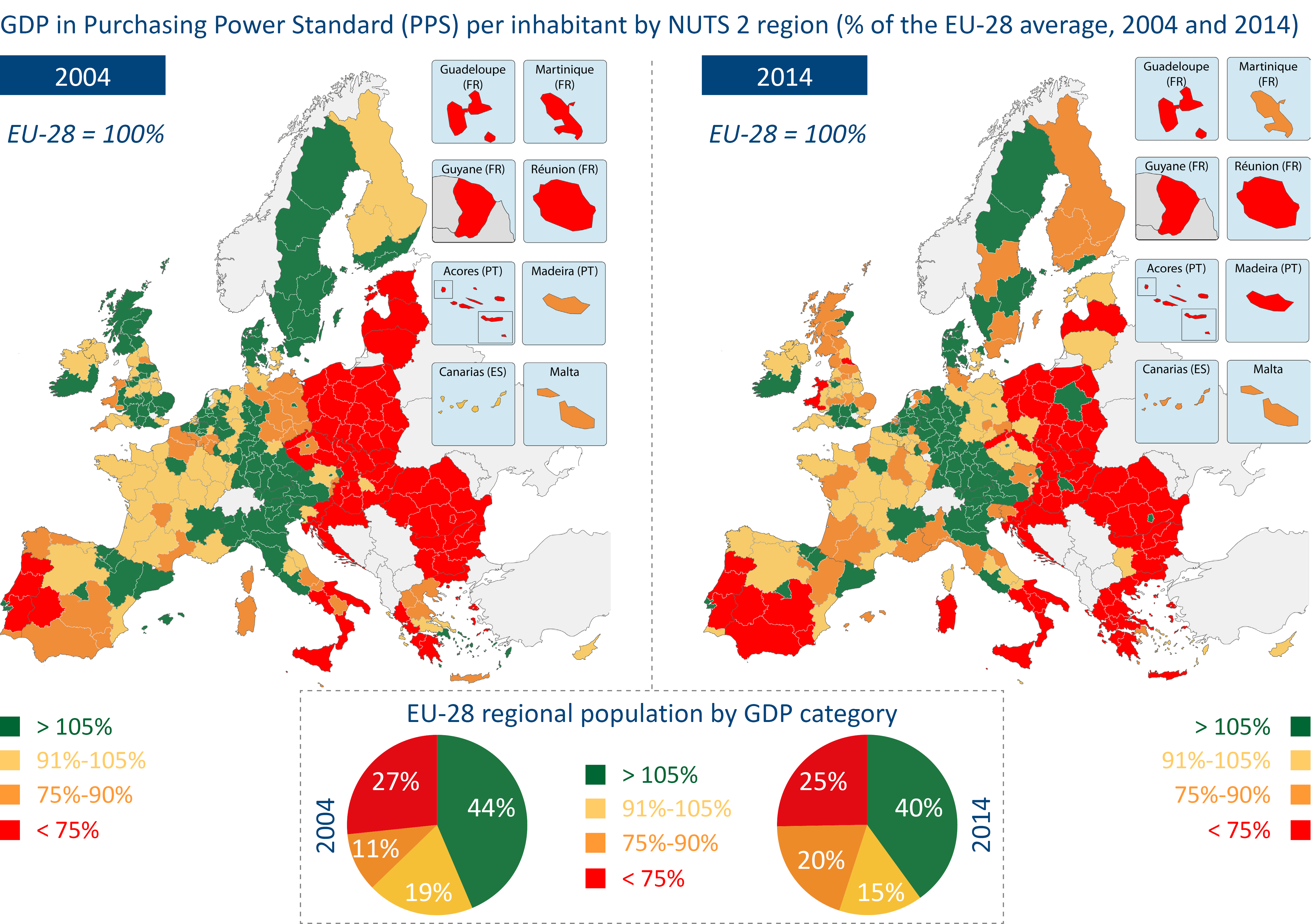 As the following comparison shows, the polarization in many countries has been unmistakable:
Meanwhile, Germany (particularly East Germany) and the Baltic states have been some of the few winners:
We have discussed the poor economic performance of the EU and Eurozone on several occasions here at The Sounding Line. Several of the slowest growing countries in the entire world can be found in the Eurozone. Those countries that were early adopters of the Euro have seen significantly slower growth than those European countries outside the Eurozone and several have the worst non-performing loan problems in the world.
Unless the EU can reform its economy, it's hard to imagine the anti-EU movements rising in several European countries losing steam anytime soon.
P.S. We have added email distribution for The Sounding Line. If you would like to be updated via email when we post a new article, please click here. It's free and we won't send any promotional materials.