Taps Coogan – May 18th, 2022
Enjoy The Sounding Line? Click here to subscribe for free.
The United States taxpayer has spent at least 3% of GDP on defense every year since the 1930s, usually much more. Providing credible defense guarantees to wealthy democracies around the world isn't cheap. It requires a fleet of constantly operating super-carriers and the associated navy, oversees military bases, cutting edge technology, logistics, standing forces, etc…
NATO is supposed to be a military alliance between Western Democracies capable of providing credible mutual defense. In that spirit, members of NATO are supposed to invest sufficiently in their militaries to make them credible. The magic 'spending level' that all NATO members have repeatedly pledged to meet over the years is at least 2% of GDP.
In practice, NATO has been a mechanism for the overwhelming majority of its members, and the overwhelming majority of the European Union, to use US taxpayers to subsidize withering local defense budgets. Of the 27 members of NATO, only ten met their spending commitments under NATO last year.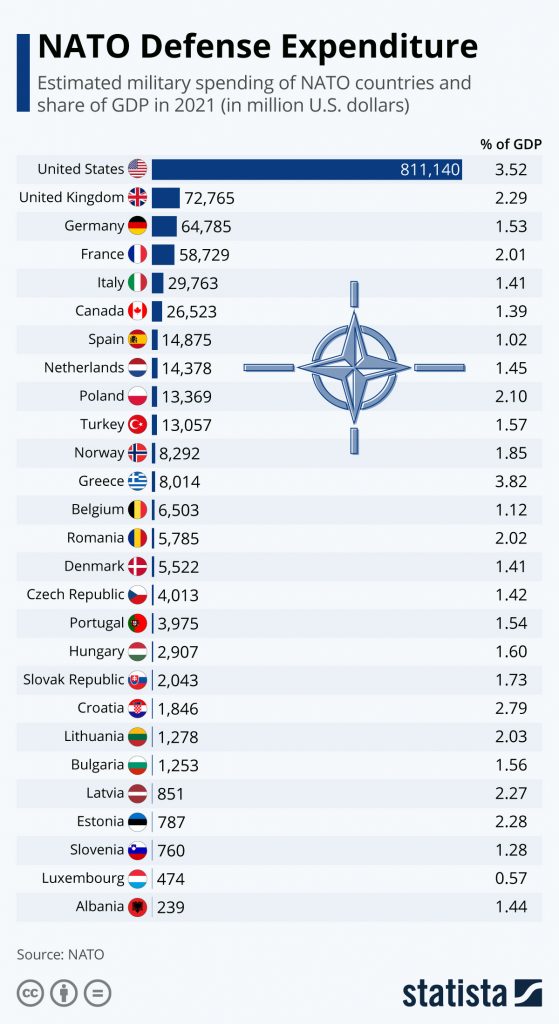 Every US administration for the last two decades has tried and failed to get the majority of NATO members to meaningfully increase investment in their own defense.
Ironically, Russia's blundering invasion of Ukraine has done what Washington couldn't. Some NATO members, most notably Germany, are finally awakening from their US-taxpayer-subsidized 'end of history' delusion to find two things: a high-intensity war of aggression on their doorstep and the reality that they have no credible military capabilities to offer, not even sufficient inventories of small arms to supply Ukraine for a few weeks. Germany and a few other NATO members are now planning to increase defense spending in line with their long-broken commitments to NATO (via one-time spending bills). Believe it when it happens and believe it when it's been sustained long enough to have rebuilt anything resembling a military capable of providing credible mutual defense in a high intensity conflict.
Now, Finland and Sweden want to join NATO. Their desire makes some sense. Their neighbor to the East is looking more dangerous. They are comparatively small countries and haven't spent much on defense since the Cold War days. Of course, one has to wonder how real the threat of a Russian invasion of Sweden really is when Russia is struggling to hold territory 25 miles into Ukraine.
Regardless, neither Sweden or Finland's defense sending has been close to 2% of GDP in a generation. Finland's announcement that it will boost defense spending to 2% this year is via a one-time spending bill. It is not a credible long term commitment.
The last thing the US taxpayer needs is another two wealthy European defense free-riders that will, as sure as night follows day, end up shortchanging their commitments to NATO when the Ukraine conflict is over and they realize they have a free and, practically speaking, unilateral defense guarantee. What does the US taxpayer get for extending a defense guarantee to two wealthy countries with overwhelminly negative views of the US (don't kid yourself about the deep US-resentment in Europe), which neighbor Russia and spend proportionally less than half as much as the US on their defense and, if we are being honest, would never reciprocate the same level sincere defense commitment to the US that we will do to them, even if they could, which they cannot?
Furthermore, what does it say to the list of current NATO delinquents when you can actually enter NATO with very limited military capability and nothing but lip service towards getting to the 2% requirement at some indeterminant time in the future?
Would you like to be notified when we publish a new article on The Sounding Line? Click here to subscribe for free.