Submitted by Taps Coogan on the 22nd of November 2018 to The Sounding Line.
With a ratio of banking assets to GDP that surpasses the US at the peak of the housing bubble and the Eurozone at the peak of its sovereign debt crisis, China is in the midst of what may be the most leveraged financial bubble in modern history. The foundation of China's credit bubble is its massively out-sized construction sector, which has been the Chinese authorities' primary tool to artificially boost the country's GDP figures for decades. Much of that construction has gone into housing which has in turn become the preferred investment vehicle for millions of Chinese families who have bought homes, second homes, and third homes as 'investments' to partake in China's multi-decade urbanization drive and housing boom.
A decade ago stories started emerging about 'ghost cities' being built in China which had virtually no inhabitants. A decade later and many of those cities still remain largely uninhabited. Meanwhile, China's housing 'boom' has kept on going and the overcapacity problem has only gotten worse. As the following chart from Statista notes, 50 million homes and apartments in China are now sitting empty, a stunning 22.4% of all homes in the country.
You will find more infographics at Statista
As Statista notes:
"The preliminary results of a nationwide study based on the China Household Finance Survey, conducted by Chengdu's Southwestern University of Finance and Economics in 2017, have been released. They show that approximately 22 percent of homes in China are unoccupied, adding up to more than 50 million empty apartments and houses across the country.
According to prof. Gan Li, who runs the study, China has the highest home vacancy rate in the world. The figures exclude homes yet to be sold by developers and only represent the empty dwellings after sales. Holiday homes and the homes of migrant workers account for some of the deserted properties, but the key reason behind China's high home vacancy rate is housing speculation.
Apartment and house purchases for investment have been dragging on supply and putting upward pressure on real estate prices in China for years, according to Bloomberg. However, should any cracks appear in the property market, the rushed sales of unoccupied homes would likely hit China severely causing multiple economic and social problems. As of now, the prices are kept relatively steady thanks to constant government purchases of surplus inventory, yet sceptics believe that China's housing market is approaching a crisis"
To further illustrate the extent of China's housing bubble, the following chart from Bloomberg reveals that a large and increasing majority of homes sold in China are now second and third homes (69%).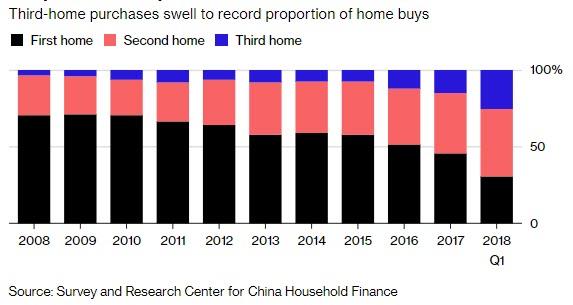 China is continuing to build homes and apartments to such an extent that nearly a quarter of all homes in the country are vacant and over two thirds of all homes sold so far in 2018 are second and third homes. This is in a country of 1.3 billion people where the median income is less than $12,500 a year. By comparison, roughly 30% of home sales in the US were non-primary residences in 2017 and just 12.7% were vacant.
China's state directed economic model of building massive overcapacity in order to manufacture economic growth has exceeded the point of diminishing returns. When and how it will come to a head is anyone's guess, but the idea that China will be able to sustain even its current rates of growth seem unlikely.
P.S. We have added email distribution for The Sounding Line. If you would like to be updated via email when we post a new article, please click here. It's free and we won't send any promotional materials.