Submitted by Taps Coogan on the 18th of May 2018 to The Sounding Line.
Enjoy The Sounding Line? Click here to subscribe for free.
The US Federal Government is projected to spend roughly $310 billion on interest on the national debt in fiscal year 2018, up $50 billion from last year. The $310 billion expense represents 9.2% of expected revenues, 7.4% of planned spending, and 37% of the anticipated $844 billion budget deficit.
In order to put $310 of interest in perspective, the following chart details other proposed federal spending for fiscal year 2018.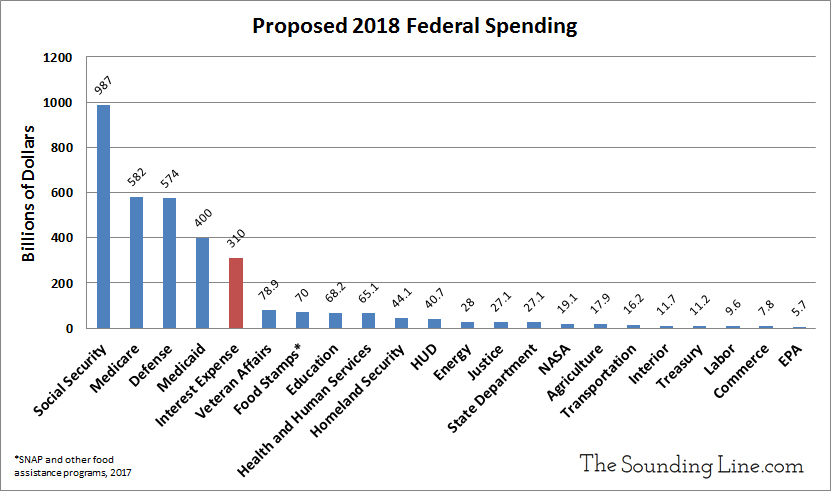 The interest expense on the national debt will be the fifth largest expense of the federal government this year. It will be larger than the combined amount spent on Food Stamps plus the departments of: Homeland Security, Housing and Human Development, Energy, Justice, the State Department, NASA, Agriculture, Transportation, the Interior, and the EPA.
While $310 billion may seem like a lot, and it certainly is, as a percentage of federal revenues it is nearly the lowest level since the 1970s. Despite the national debt having more than doubled since the start of the 2008 financial crisis, extremely low interest rates since then have resulted in the interest expense actually falling as a percentage of federal revenues.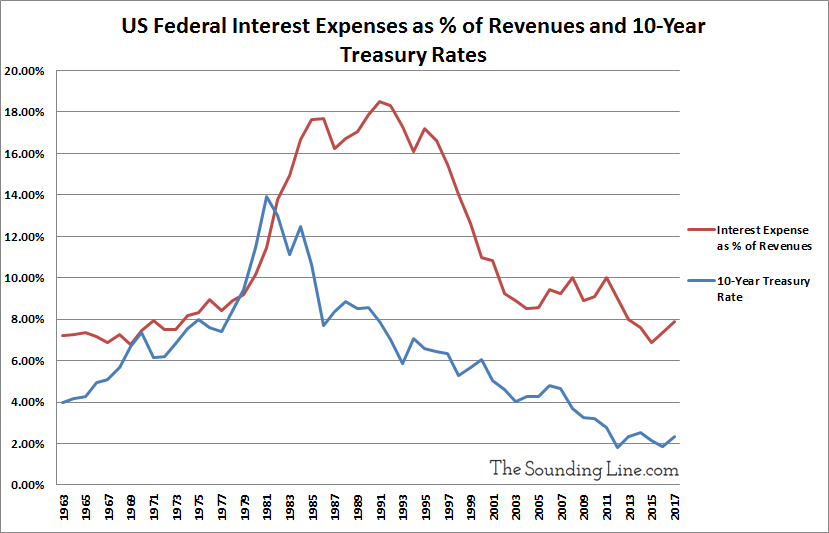 Interest expenses are unlikely to remain this 'low' in coming years as the national debt grows and interest rates rise. As we noted here:
"A significant rise in interest rates (which many economists and investors now expect) could greatly increase the interest expense of future federal government borrowing. When interest expenses were consuming over 15% of federal revenues in the 1980s, the debt-to-GDP was barely over 30%. Today the debt-to-GDP is 104%. The current pace of ever expanding deficit spending and borrowing becomes far more destructive in a rising interest rate environment with today's high debt loads."
If another recession occurs, expect federal spending to increase and revenues to drop, pushing deficits even higher than anticipated.
Continued deficit spending has real costs. Interest already costs the government more than it spends on a dozen federal departments and programs and is in-and-of-itself a major cause of budget deficits. Having grown nearly 20% just this year, interest is already the fastest growing major expense for the government and estimates suggest that the cost will triple over the next ten years.
Now is the time to take advantage of the relative strength of the US economy to bring the federal government's fiscal house into order.
P.S. We have added email distribution for The Sounding Line. If you would like to be updated via email when we post a new article, please click here. It's free and we won't send any promotional materials.