Taps Coogan – December 22nd, 2020
Enjoy The Sounding Line? Click here to subscribe.
Here's one for the history books: the ratio of the tech-centric Nasdaq index to the S&P 500 has reached the highest level ever recorded (3.4) this December, eclipsing the peak of the Dot-Com bubble (3.3) for the first time.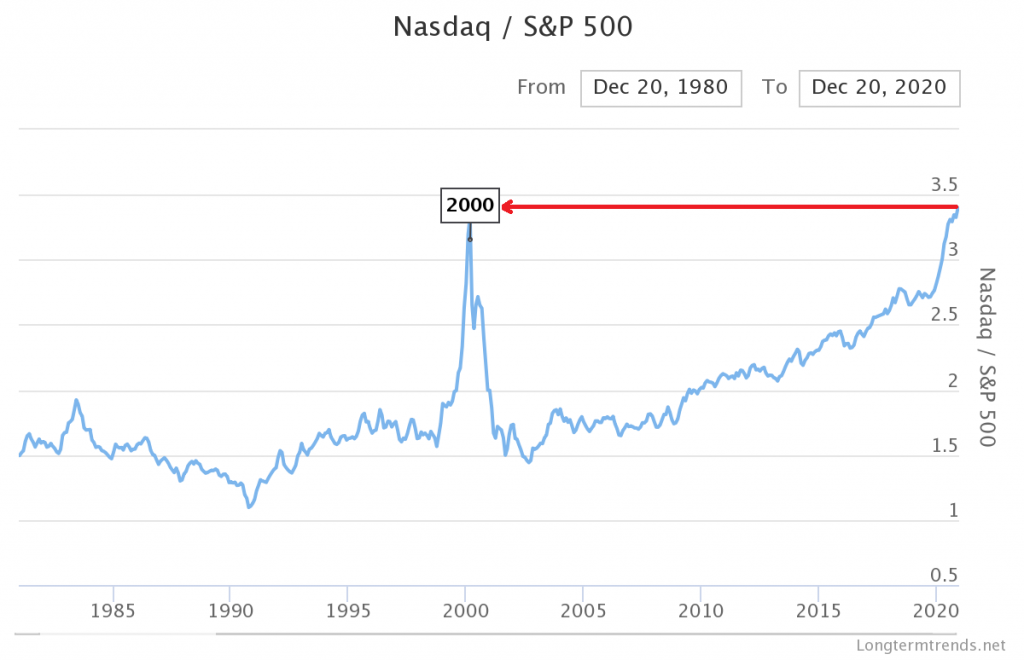 Whereas the Dot-Com bubble caused a brief and conspicuous spike in the Nasdaq/S&P 500 ratio from 1999 through 2001, the current record is the result of years of trending since the Global Financial Crisis, followed by a Covid inspired surge in tech stocks this year.
There is a case to make that this trend is at least partially a reflection of the real structural rise of technology in the economy. Then again, some back of the envelope math reveals that sustaining current growth in the Nasdaq (up roughly 42% year-to-date) implies its market cap overtaking total global GDP by roughly 2024. Needless to say, that seems unlikely.
Would you like to be notified when we publish a new article on The Sounding Line? Click here to subscribe for free. Also, please consider sharing this article so that we can grow The Sounding Line!