Submitted by Taps Coogan on the 4th of April 2018 to The Sounding Line.
It is well known that Southern Europe has endured a particularly weak economic performance over the last decade, yet the magnitude and impact of the economic under-performance is often under-appreciated. Combined Italy, Spain, Portugal, and Greece have a population of over 126 million people and a GDP of roughly $3.7 trillion (2.99 trillion Euros). If the region were a country it would be the 10th most populous in the world and the fourth largest economy after the US, China, and Japan. Yet Southern Europe's economy has yet to recover from a financial crisis that struck a decade ago. To this day, there are three million fewer employed people in the four countries than in 2008 and that counts anyone who works at least one hour a week as employed. In fact, the number of employed people is still lower than in 2005 despite the population of the region having grown by over three million people since then.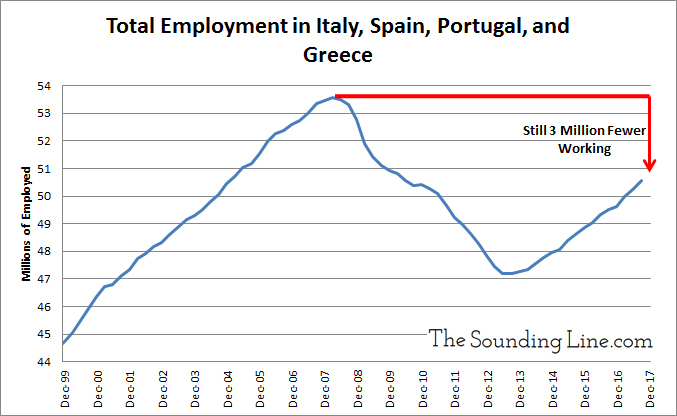 As we discussed here, Italy, Portugal, and Greece have seen some of the slowest rates of economic growth in the entire world in the 21st century. The Eurozone's failure to implement meaningful structural pro-growth reforms, choosing instead to continue raising taxes and increasing regulation, has left the entire burden of reviving the region's economy to the European Central Bank (ECB). To little avail, the ECB has kept interest rates at record negative lows and continues to perform QE and expand its balance sheet.
Meanwhile, the much of the rest of the world has experienced one of the longest periods in modern history without a formal recession or financial crisis. Every other major developed economy has seen absolute employment exceed 2008 levels.
| | |
| --- | --- |
| Country | Change in Employment Q1 2008- Q4 2016 (Thousands of Workers) |
| USA | 5803 |
| South Korea | 2788 |
| UK | 2171 |
| Australia | 1328 |
| Canada | 1217 |
| Japan | 727 |
| Switzerland | 423 |
| New Zealand | 328 |
When the next recession inevitably arrives, Southern Europe's economy risks slipping even further into pre-2008 levels and the ECB is horribly positioned to prevent it by applying additional meaningful stimulus.
P.S. If you would like to be updated via email when we post a new article, please click here. It's free and we won't send any promotional materials.