Submitted by Taps Coogan on the 31st of July 2018 to The Sounding Line. 
Enjoy The Sounding Line? Click here to subscribe.
The following chart shows the difference in the employment rate between native and foreign born working age residents (15-64 years old) across 31 OECD countries, based on the most recent data from 2017. Negative values indicate that foreign born residents are less likely to work than native born residents.
As the chart above shows, there are very large differences between the relative employment rates of immigrant and native born populations across the developed world. Whereas foreign born residents are more likely to be employed in countries like Israel, the US, or Poland, they are significantly less likely to be employed in many countries. In particular, the employment rate among foreign born residents is lower across much of Western Europe and over 10% lower in the Netherlands, Sweden, Denmark, and Finland.
Many factors contribute to these differences. One can be seen in the chart below, which shows the same comparison for men only. The smaller number of countries with lower foreign born employment rates, when looking exclusively at men, implies some of the employment differences are a result of lower female employment rates among foreign born populations.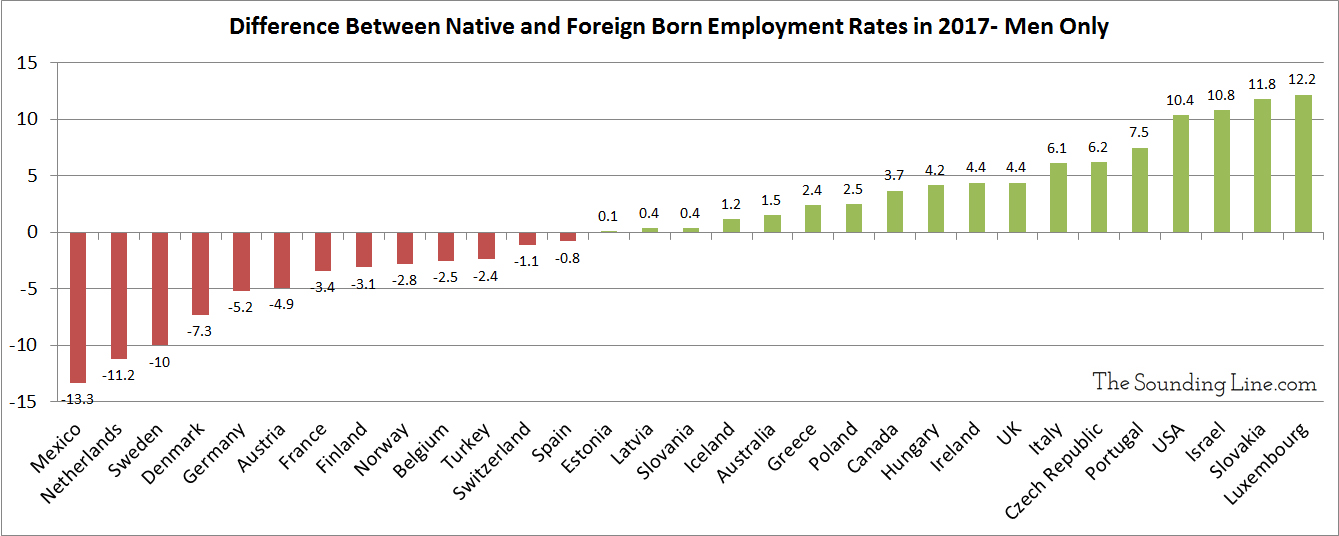 Yet regardless of gender differences, foreign born employment rates remain significantly lower in many Western European countries, as well as Mexico. Considering that a disproportionate percentage of the foreign born population in many of these countries is of working age, the lower employment rates may be indicative of systemic underemployment among immigrant communities and deeper problems with immigration and integration systems in several Western European countries.
As we previously noted, the ratio of workers to retirees is dwindling across much of the developed world. Increased immigration has been proposed as one solution to that problem. While that can be debated in countries where immigrants are more likely to be employed than the native born population, in countries like the Netherlands, Sweden, Denmark, Germany, Austria, France, Finland, etc…, the lower employment rate among immigrant populations, as currently integrated, largely undermines that argument.
To see a visualization of the flow of immigration to Europe every year, read this.
If you would like to be updated via email when we post a new article, please click here. It's free and we won't send any promotional materials..