Taps Coogan – August 22nd, 2021
Enjoy The Sounding Line? Click here to subscribe.
Forget for a moment about the moral and legal question of perpetually extending the moratorium on evictions in the US well into the second year. Sure, the Supreme Court already ruled against the CDC's moratorium. Sure, 77% of rental units are owned by Mom & Pop operations that can hardly afford to let people live rent free in their homes while they pay property taxes, and sure, there have never been more job openings in American history than right now.
Continuing to delay the inevitable return to renters paying rent is just bottling up inflationary pressures, as the following chart from Nordea via Andreas Steno Larsen shows.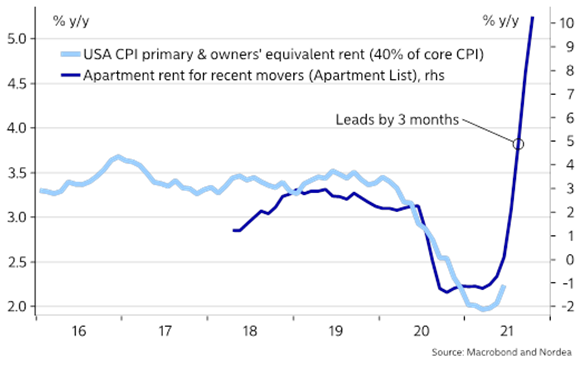 The BLS's lowball 'owner's equivalent rent' component of the CPI, which is 40% of CPI's weighting, is still sitting at around 2.25%, well below pre-Covid levels of around 3.5%. Meanwhile, the actual rent increases being seen by people moving apartments is over 10%.
Whenever the eviction moratorium is lifted, the rent component of CPI is going to surge as landlords try and recoup the losses they've suffered this past year-and-a-half and start to price in the new operating risk of getting stuck with deadbeat renters for years on end with no recourse. Legions more will realize that renting in this political environment is simply not worth it.
Would you like to be notified when we publish a new article on The Sounding Line? Click here to subscribe for free.