Submitted by Taps Coogan on the 30th of December 2017 to The Sounding Line.
Despite the constant parade of news articles (here, here, here, etc…) warning of an 'increasingly dire labor shortage' in the US, and despite the incessant touting of America's very low unemployment rate, the percentage of working age Americans that are working (the employment-to-population ratio) is lower than at any point from 1985 until 2009 (for a discussion of how this can be, read this). Contrary to the prevailing sentiment, the United States simply does not have a labor shortage. Rather, the United States has a shortage of people willing to work for current wages. The two things are not the same. Excluding those over 65 years old and those with disabilities, there are roughly 58 million working age Americans who are not working. That is roughly equal to the combined populations of both Canada and Australia. If just 11% of these people rejoined the workforce, they could easily fill the roughly six million open jobs in the US.
Inflation adjusted household income in the US has only risen 0.06% since 1999. Meanwhile, the cost of the things average families spend the vast majority of their money on (gas, food, heating, housing, healthcare, and education) has risen many times faster than the useless official inflation rates. As we discussed here, it takes the median family twice as many years of actual work to afford a median house as compared to the late 1960s. People have been ground up and discouraged by decades of stagnant wages, rising prices, and disappearing middle-income industrial jobs. Unsurprisingly, enrollment in the various US welfare programs has swelled.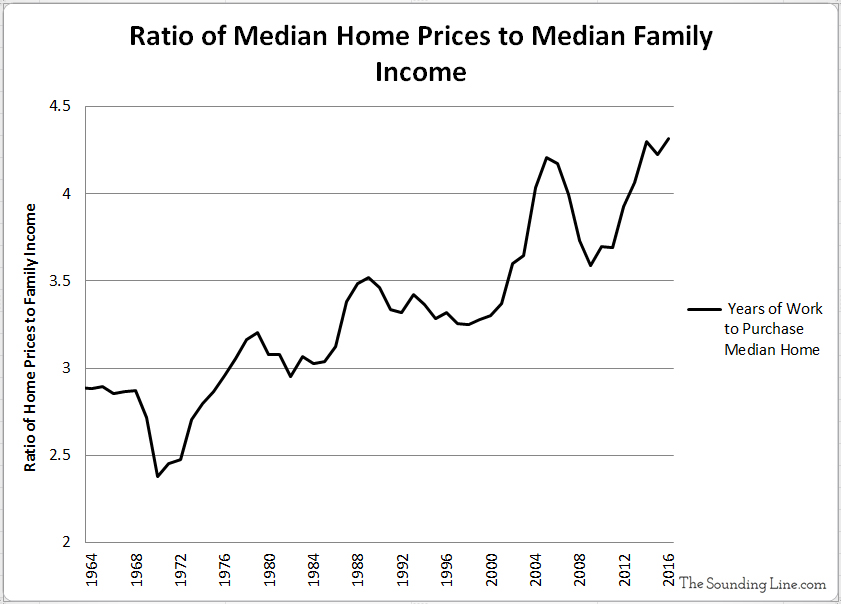 If companies are having a hard time finding labor, they will need to try the one thing that they have apparently refused to do for 20 years. Aggressively raise real wages. When they do, there is the best part of 58 million healthy working age Americans who need to get back to work.
P.S. We have added email distribution for The Sounding Line. If you would like to be updated via email when we post a new article, please click here. It's free and we won't send any promotional materials.