Taps Coogan – August 15th, 2021
Enjoy The Sounding Line? Click here to subscribe.
The ratio between births and deaths in the US has crashed to barely '1' as of 2020, a level the signifies that population growth ex-immigration is nearing zero, as the following chart from Wall Street Journal via Richard Bernstein highlights.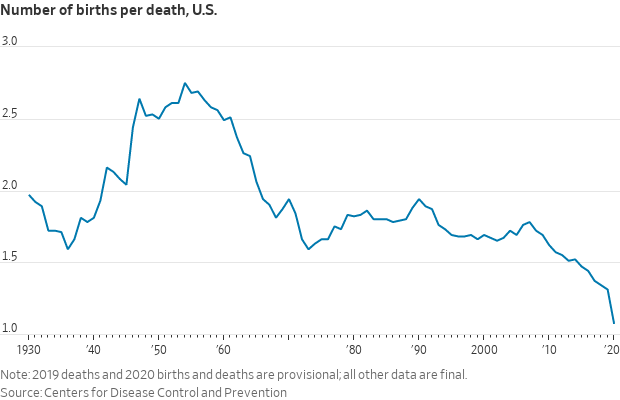 The recent drop to slightly more the '1' in the chart above is in part due to an uptick in overall mortality due to Covid, but the trend has been in place for years.
Compounding America's demographic woes, the US working age population, the number of people between 15 and 65 years old, is now shrinking outright.
One can debate the pros and cons of population growth, but in a country drowning in debt and unfunded liabilities, most of which go towards retirees, a shrinking population, and particularly a shrinking working age population, is the kiss of economic death.
Would you like to be notified when we publish a new article on The Sounding Line? Click here to subscribe for free.