Submitted by Taps Coogan on the 8th of September 2017 to The Sounding Line.
The average American production worker must work over 111 hours to earn enough in wages to purchase the same quantity of S&P 500 stocks which he or she could have purchased with less than 42 hours of work anytime before 1995. The current value of 111 hours of production work per unit of the S&P 500 index is at an all time record high, surpassing the previous highs of 105 hours at the peak of the 'Dot-com' bubble in early 2000, and 88 hours at the peak of the 'Housing Bubble' in mid 2007.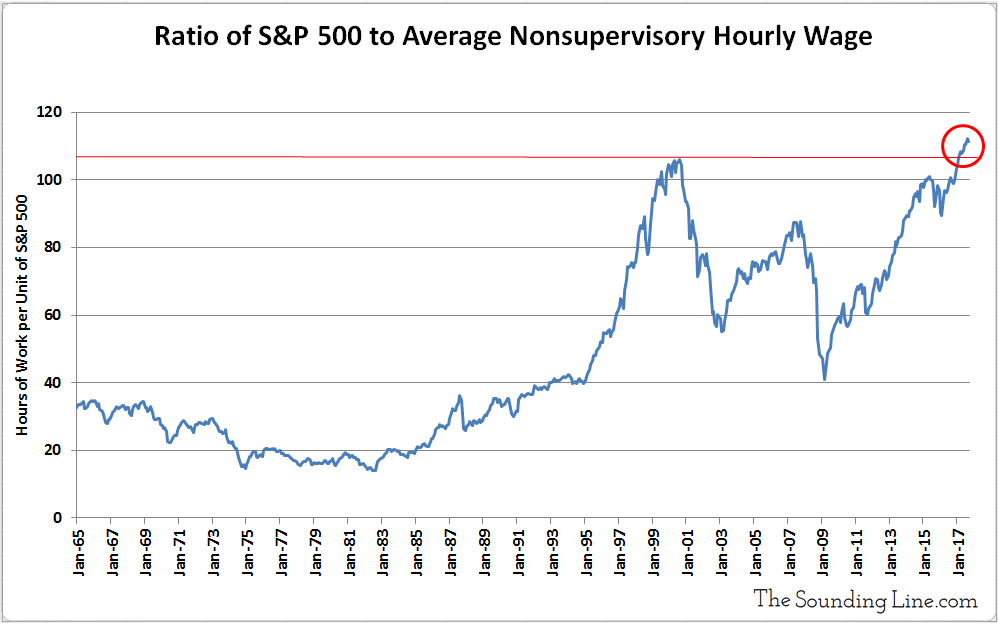 If there is still anyone at the Federal Reserve that thinks that the so called 'wealth-effect' has led to increased prosperity for workers outside the financial economy, this should settle the score. The Fed's low interest rate policies have led to the largest distortions between hourly production wages (non-supervisory) and financial asset prices on record. Stock prices are through the roof, yet working wages have stagnated. Accordingly, nearly the fewest Americans on record report to own stocks. With virtually half of Americans living paycheck to paycheck, the idea of that the average Joe owns large a stock portfolio is outlandish. What's more, whatever average working people have managed to save at the bank earns them virtually no interest. All of this so that the wealthiest Americans with large stock holdings can inflate their income. Income, which the wealthy will end up spending a far smaller fraction of in the real economy than would average workers, further reinforcing the absurdity of the entire situation.
While stock prices have clearly diverged from historic norms based on this, and many other metrics, that does not mean that they have reached their peak divergence just yet. Interest rates remain low, most central banks continue to print hundreds of billions of dollars a year, and banks are holding trillions of dollars in excess reserves. The current state of affairs may continue for some time, but make no mistake, this is not a sustainable state of affairs.
P.S. We have added email distribution for The Sounding Line. If you would like to be updated via email when we post a new article, please click here. It's free and we won't send any promotional materials.