Taps Coogan – April 21, 2022
Enjoy The Sounding Line? Click here to subscribe for free.
The following chart, from Crestcat Capital's Otavio Costa, shows the year-over-year total return performance of the Bloomberg US Treasury Index.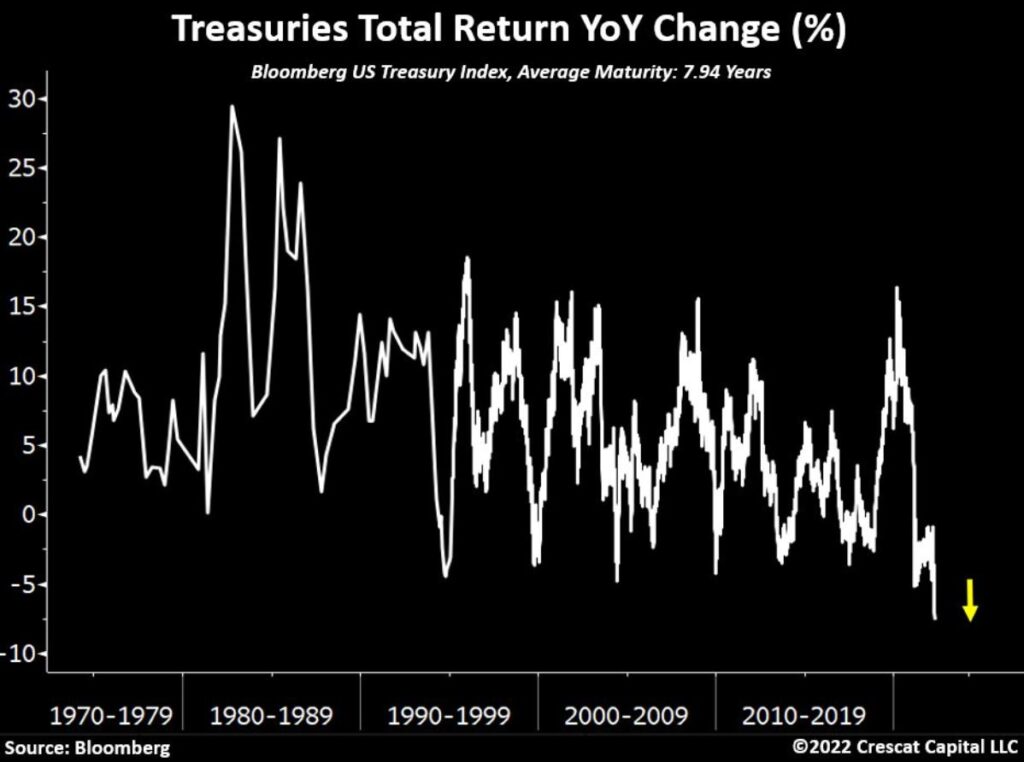 As the chart highlights, this has been the worst 12 months on record for treasury holders. Total return losses are now roughly 7.5% and that is before accounting for inflation, which has eliminated another 8.5% of purchasing power over the same 12 months. That means that the year-over-year inflation adjusted total return of the Bloomberg US Treasury Index is roughly -16%. That's very likely to be the worst year-over-year real total return in modern US Treasury market history.
That investors buying treasuries for next-to-no-yield a year ago as the Fed was printing hundreds of billions of dollars and inflation was ramping up are now taking major mark-to-market losses, is hardly a surprise. As we noted in December 2020 when breakevens first hinted at the coming inflation surge:
"Amid the ongoing debate as to whether the whirlwind events of 2020 will prove to be inflationary or deflationary, it looks as though the market's implied expectations are moving into the inflation camp.
If that proves to be the case (a big if…), we can start to imagine who the bag-holders for the capital misallocation debt-palooza of the past decade are: bond holders who lent money for next to nothing while central banks were promising to do whatever to takes to create negative real rates."
Anything that's down this badly is probably due a bounce, perhaps a big one, but an asset class capable of producing this magnitude of a 'real' loss in such a short time is simply not well suited for a reserve asset. Regardless of what happens moving forward, this is going to be a blackspot for the US dollar reserve system for a long time to come.
Would you like to be notified when we publish a new article on The Sounding Line? Click here to subscribe for free.