Taps Coogan – December 16th, 2020
Enjoy The Sounding Line? Click here to subscribe.
The following chart, from Robin Brooks, shows the net purchases of US financial assets by foreigners since 1990.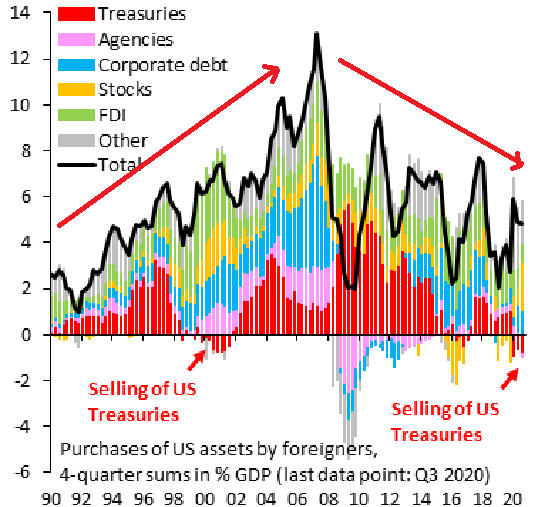 As Mr. Brooks notes, foreigners are now net sellers of US treasuries for the first time since a brief period at the peak of the Dot-Com bubble.
What the chart also shows is that net foreign demand for US financial assets has been falling since 2007, a trend that looks like a reversal of the rising trend since the early 1990s.
Considering that foreign purchases of financial assets are the primary mechanism that recycles back into the US the US Dollars accumulating overseas as a result of our ever widening trade deficits, one has to wonder: what happens to the US Dollar and economy as this chart approaches zero?
Would you like to be notified when we publish a new article on The Sounding Line? Click here to subscribe for free. Also, please consider sharing this article so that we can grow The Sounding Line!