Taps Coogan – December 16th, 2020
Enjoy The Sounding Line? Click here to subscribe.
Another day, another reminder of the toxic side-effects of 12 years of ulta-accomodative monetary policy.
Today's reminder, via the Financial Times, shows the relentless 'zombification' of corporate America. 15% of Russell 3000 companies are now 'zombies,' rivaling the peak of the Dot-Com era.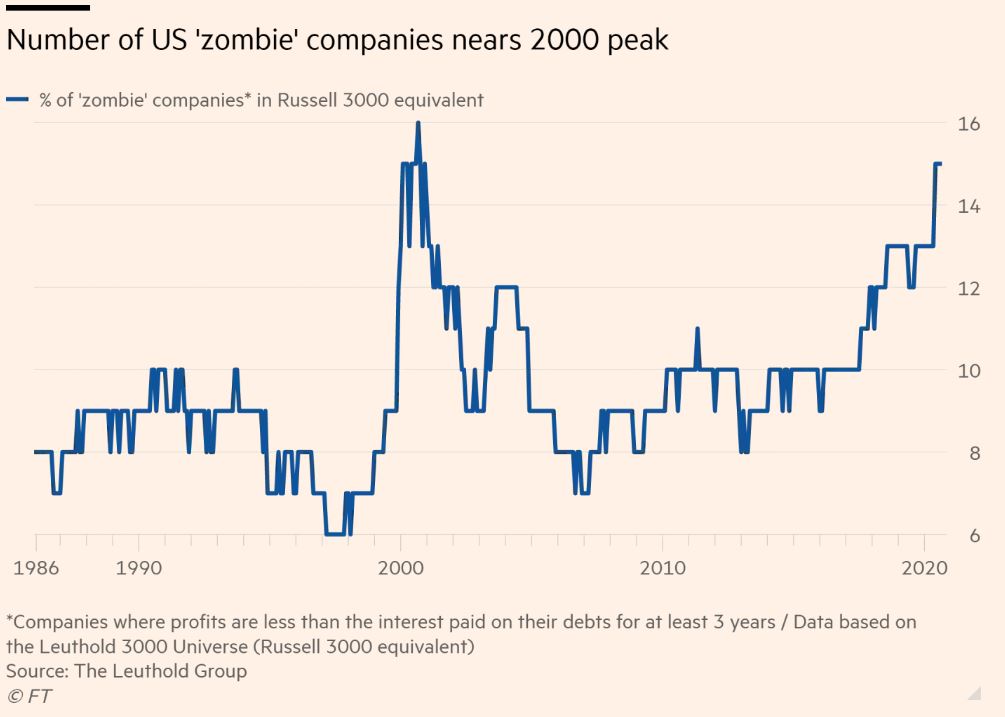 The chart above defines 'zombies' as companies whose profits are less than their cost of borrowing for three years running. In other words, these are publicly traded companies (not startups) that don't make enough money to pay their debt. They continue to exist by borrowing to cover their borrowing. Luckily for them, the cost of doing so has never been lower.
Along those lines, the Fed has promised to keep interest rates pegged near zero until official inflation metrics overshoot their target for 'a considerable time,' a period of time generally understood to mean years. By the time they start normalizing policy, how many companies capable of withstanding higher borrowing costs will be left?
Would you like to be notified when we publish a new article on The Sounding Line? Click here to subscribe for free. Also, please consider sharing this article so that we can grow The Sounding Line!