Taps Coogan – July 14th, 2021
Enjoy The Sounding Line? Click here to subscribe.
The following chart from Jim Bianco of Bianco Research shows the Goldman Sachs 'Non-Profitable Tech Index.' It's up over 300% since pre-Covid times.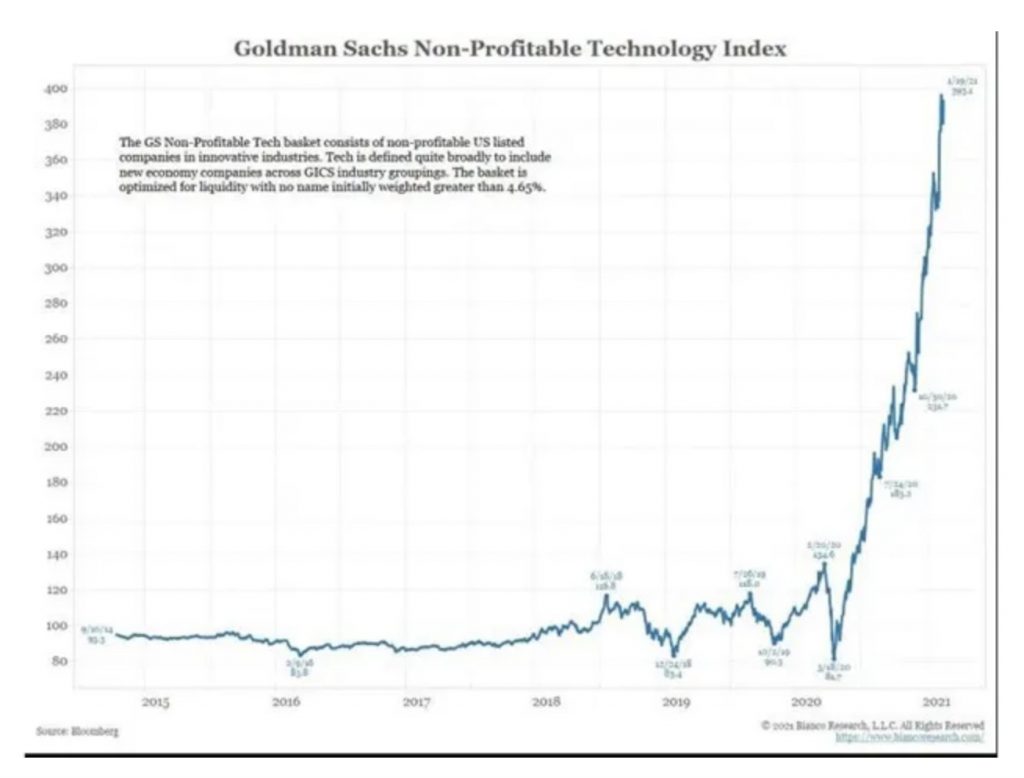 Sure, the chart above screams bubble, but it also raises a question. What exactly is the point of profits in a world where the borrowing cost for junk companies is below the inflation rate?
Presumably, the point of profitability is so that companies can pay their bills, repay investors, and grow without resorting exclusively to ever-more borrowing. However, now that borrowing is free in real terms even for 'junk' borrowers, profitably is ancillary, perhaps even a hindrance, as the chart above attests to.
While profitability maybe be out of fashion, it's never been easier to achieve, at least in theory. If you started a junk rated company today that did nothing but borrow money and buy a basket of goods that reflected the CPI index and then periodically sold those same goods, you could actually make money.
One can debate how horribly unhealthy and unsustainable this all is, but until the Federal Reserve remembers why it was granted its cherished 'independence,' this is how our brave new world works.
Would you like to be notified when we publish a new article on The Sounding Line? Click here to subscribe for free.