Taps Coogan – June 14th, 2022
Enjoy The Sounding Line? Click here to subscribe for free.
The 10-year 2-year yield spread has re-inverted for the first time since mid-April, flashing another recessionary signal.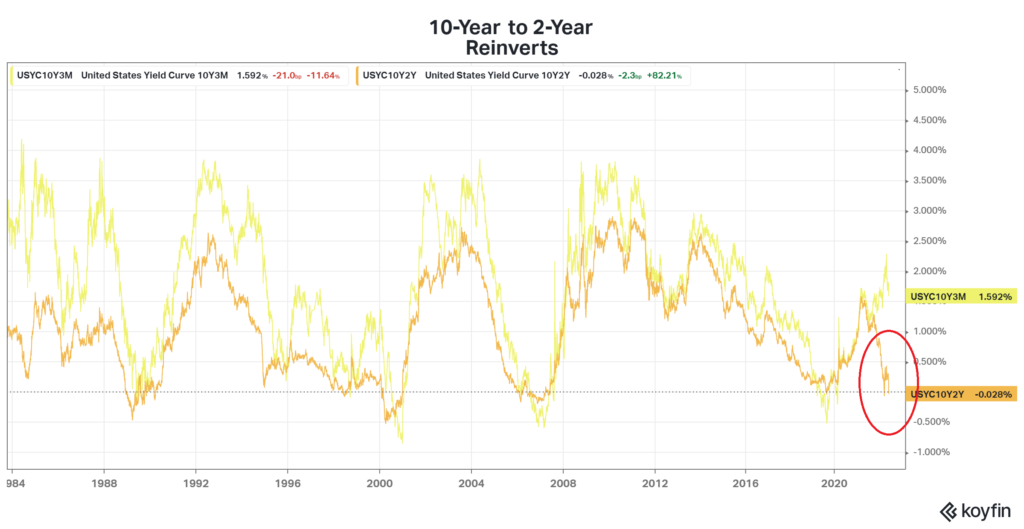 The two 'classic' spreads used to predict recessions are the 10-year to 2-year and the 10-year to 3-month shown in the chart above. While the former has now inverted twice in 2022, the later has steepened significantly since the 2020 recession, creating an inversion divergence that is, as far we can tell, unprecedented.
The divergence is apparently signaling the expectation of significant monetary tightening still yet to come. The 2-Year is pointing to another seven rate hikes after September while the 3-month is pointing to a recession before then.
Trying to squeeze all of the rate hikes and QT that should have been done in 2021 into the next few months risks provoking a crisis that will end up cutting the Fed's tightening cycle short before bringing inflation under control.
Would you like to be notified when we publish a new article on The Sounding Line? Click here to subscribe for free.