Taps Coogan – July 28th, 2022
Enjoy The Sounding Line? Click here to subscribe for free.
The following chart, from Andreas Steno, highlights the implosion in Chinese consumer confidence, which has seen its fastest decline on record and fallen to its lowest level since at least 1990.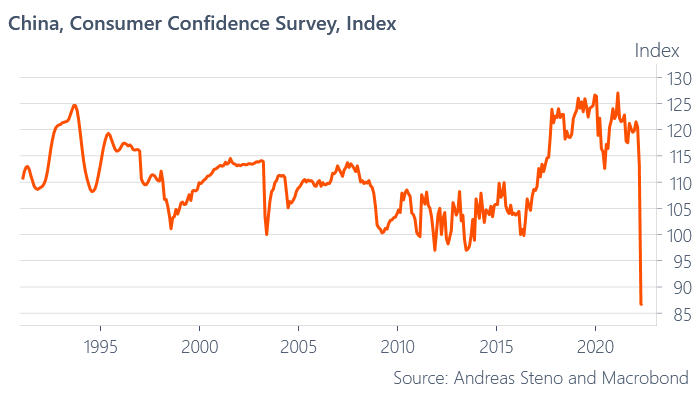 Back in September, when real-estate developers in China started failing, we described it as China's 'Evergrande Moment,' and argued that the debate about how exactly Evergrande's failure would be handled was missing the more important point.
The more important point was that observers had been watching the excesses of China's real-estate development model for over a decade, wondering when the wheels would come off the cart. That moment is now.
High profile defaults like Evergrande will be stage-managed by the CCP. That China's economy is in a recession, that its population is now shrinking, that Xi Jinping is reversing the economic reforms that enabled China's rise, those factors are what is important.
China's social contract has been authoritarianism in exchange for high and perpetual economic growth. That deal brought China from deep poverty after Mao to median per-capita income somewhere between Bulgaria and Romania. Now growth is stalling out.
There may be a bounce of sorts for the balance of this year as Chinese regulators flood the economy with stimulus in the runup to Xi Jinping declaring himself leader-for-life, but China's golden age is over.
Would you like to be notified when we publish a new article on The Sounding Line? Click here to subscribe for free.