Taps Coogan – July 18th, 2021
Enjoy The Sounding Line? Click here to subscribe.
The following chart, from Bank of America via ISABELNET, shows the percentage of Fund Managers who believe the economic outlook will improve.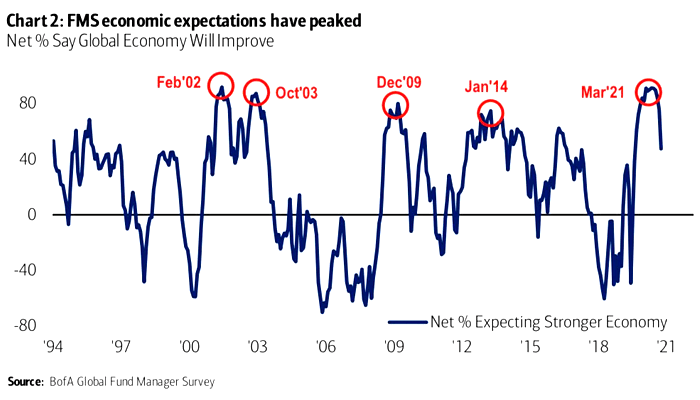 According to fund manager expectations, the economic recovery peaked back in March of this year when over 80% expected a stronger economy. All signs point to that being more-or-less correct.
It also means we are probably starting to get the first glimpses of what the new 'New Normal' looks like. Disappointingly, those first glimpses look an awful lot like the old 'New Normal': endlessly surging asset prices on the back of accommodative monetary and fiscal policy, wasteful deficits, corporate zombification, massive excessive bank reserves, etc… If there is a twist this time it's that inflation is running hot, at least for now.
One mystery from the old 'New Normal' we can probably now put to rest was the once hypothetical question of what would happen to borrowing costs if inflation ever really took off. The answer: borrowing costs drop because that's what the Fed wants them to do. It turns out, the limits of monetary policy are whatever the Fed decides them to be. That doesn't mean that the Fed won't elect to tighten policy someday if inflation remains persistent, but it is ultimately their choice.
Would you like to be notified when we publish a new article on The Sounding Line? Click here to subscribe for free.