Taps Coogan – October 10th, 2021
Enjoy The Sounding Line? Click here to subscribe.
The following painting, by French artist Claude Jacquand in 1846, shows the imagined capture of Jerusalem by Jacques Molay in 1299.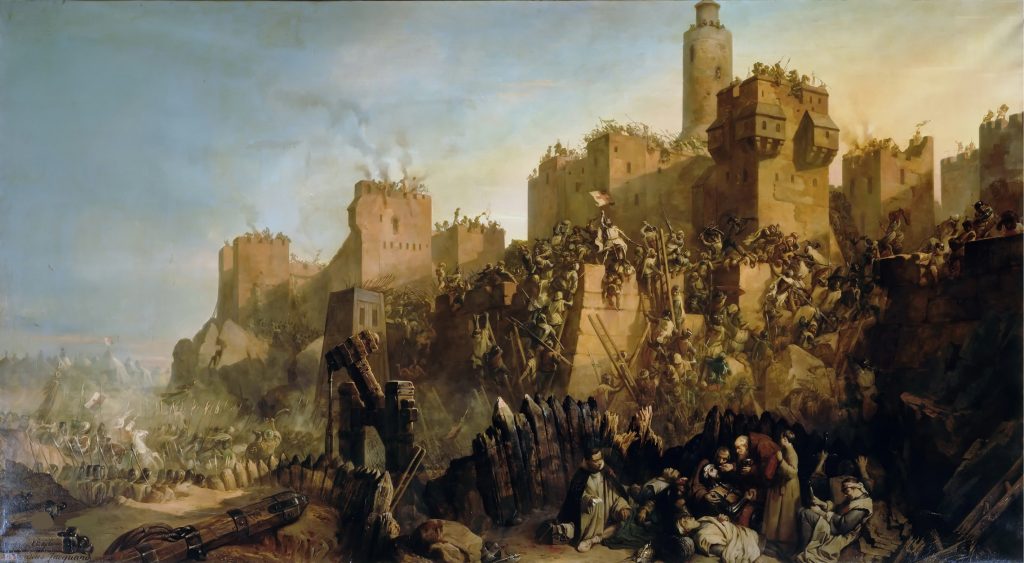 While Jacques Molay never did capture Jerusalem, or even besiege the city, it was a common belief in 19th century France that he had. Jacques Molay was the last Grand Master of the Knights Templer and his dramatic death spawned considerable mythology about his attempt to assemble a final crusade to retake the Holy Land after the Fall of Acre, the last Crusader city in the Near-East, in 1291.
At the time, King Philip IV of France was deeply indebted to the Templers and in a power struggle with the Papacy. So, he had the clever idea to accuse the Templer crusading order of heresy and have its leaders executed while Molay was in France planning the aforementioned crusade. Molay was arrested, tortured into confessing guilt, and burned alive on a raft in the Seine river in front of the of Notre-Dame de Paris Cathedral. He recanted his confession before being put to death. The Templers were dissolved along with the King's debts.
A similarly named Mongol general Mulay did siege Jerusalem in 1299, hence the legend that it was actually Molay..
Would you like to be notified when we publish a new article on The Sounding Line? Click here to subscribe for free.