Taps Coogan – October 11th, 2021
Enjoy The Sounding Line? Click here to subscribe.
After a year of dragging its feet, the Fed has signaled its intent to begin to taper its $120 billion-a-month financial asset buying scheme by the end of the year, reducing its net purchases down to zero at some point in the middle of next year, and setting it up to raise the Fed Funds rate late next year or in 2023.
Here is a prediction: The Fed will start tapering, but they will still be doing QE this time next year and the interest rate hikes won't come.
Why?
Instead of proactively reducing QE as inflation screeched higher for the past last year, the Fed decided to wait until this winter. That means that it's planning to begin tightening after its own estimates show GDP growth falling back to barely 1%.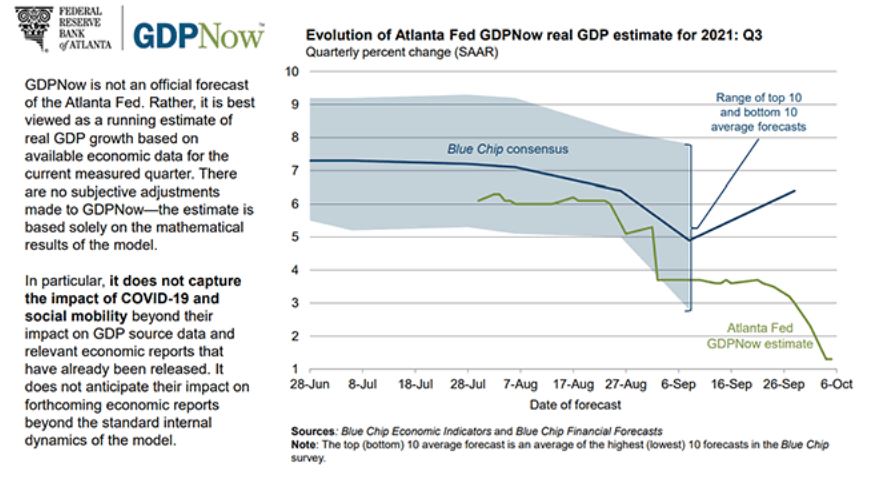 Furthermore, by the time the Fed gets around to tightening in December, Congress will have probably passed one or two spending bills costing anywhere from $1.2 trillion to $4.7 trillion (the real cost is even higher).
Presumably, the debt ceiling will also need to be raised again, meaning that the Treasury will also be rushing out to refill what will be a completely depleted General Account.
That means that the Treasury is going to have to issue a lot of Treasury debt this winter, putting upward pressure on interest rates.
For those keeping track, the Fed has bought a whopping 85% of net treasury issuance over the past 12 months.
So, after waiting through month after month of high inflation and 6%+ GDP growth, the Fed, overwhelmingly the largest buyer of Treasury debt, is planning to walk away from the Treasury market just as the Treasury rushes out to fund a historic increase in social spending and replenish its general account, and annualized real GDP growth drags along at barely 1%.
They do have a knack for timing.
They also have a knack for capitulating after a few months of market turbulence. So, don't be surprised if they are still doing boatloads of QE this time next year.
Would you like to be notified when we publish a new article on The Sounding Line? Click here to subscribe for free.