Taps Coogan – August 23rd, 2023
Enjoy The Sounding Line? Click here to subscribe for free.
The first article we wrote this year was titled 'Welcome to Post-Peak China,' one of many articles in which we have highlighted the deteriorating economic and demographic outlook for China.
As a reminder, just a handful of years ago Chinese-government forecasts didn't see the country's population peaking until the end of this decade. Meanwhile, more credible independent analysts have long called for China's population to start declining in 2022/2023 which is exactly what has happened: the UN now acknowledges that China's population has been surpassed by India and is likely shrinking.
Not only is China's population shrinking but it is poised to shrink and age even faster than Japan's infamously declining population due to an even lower-and-faster-declining fertility rate, large gender imbalance, and large net emigration outflow.
Meanwhile, the main engine of China's rise to a medium per capita national income level has been state-directed real-estate development. That's not going to last, as the following chart from Andreas Steno Larson highlights:
Chinese RE credit versus the population size! AAAAAAAAAAAAAAAAH!

The end of China as we know it?

Weekly editorial -> https://t.co/D3KJi5gyhG pic.twitter.com/nMWvekwi2R

— AndreasStenoLarsen (@AndreasSteno) August 20, 2023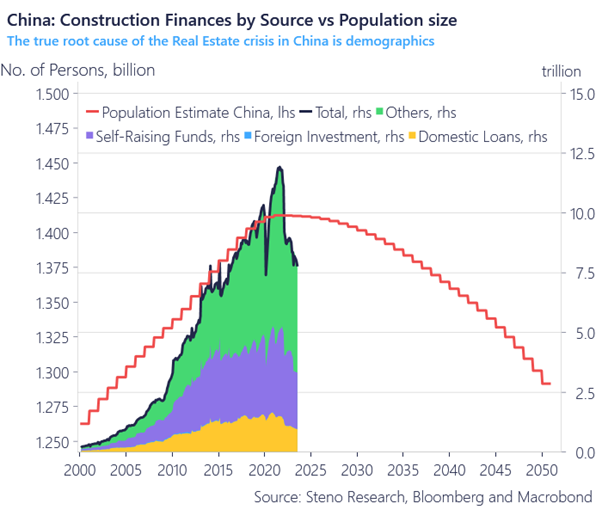 The CCP will use the arsenal of tools at its disposal to mitigate and mask the reality of the chart above. That makes it anybody's guess what the short-term path for China looks like but in the long run, China is not going to age well.