Taps Coogan – September 8th, 2023
Enjoy The Sounding Line? Click here to subscribe for free.
We've said it before and we're saying it again: those expecting a quick recessionary end the current period of below trend – and occasionally quasi-recessionary – economic malaise are going to be disappointed. As the following chart via Isabellnet highlights, recessions almost always take longer than people realize. People give up predicting them, often times right before they start, for a reason:
🇺🇸 Recession

A recession in the US is still likely based on the lags between rate hikes and previous cycles
👉 https://t.co/m11iBkSWhc

h/t @DeutscheBank #markets #FederalReserve #Fed #rates #Fedfunds #monetarypolicy #recession #investing pic.twitter.com/5F8nTM0FLR

— ISABELNET (@ISABELNET_SA) September 7, 2023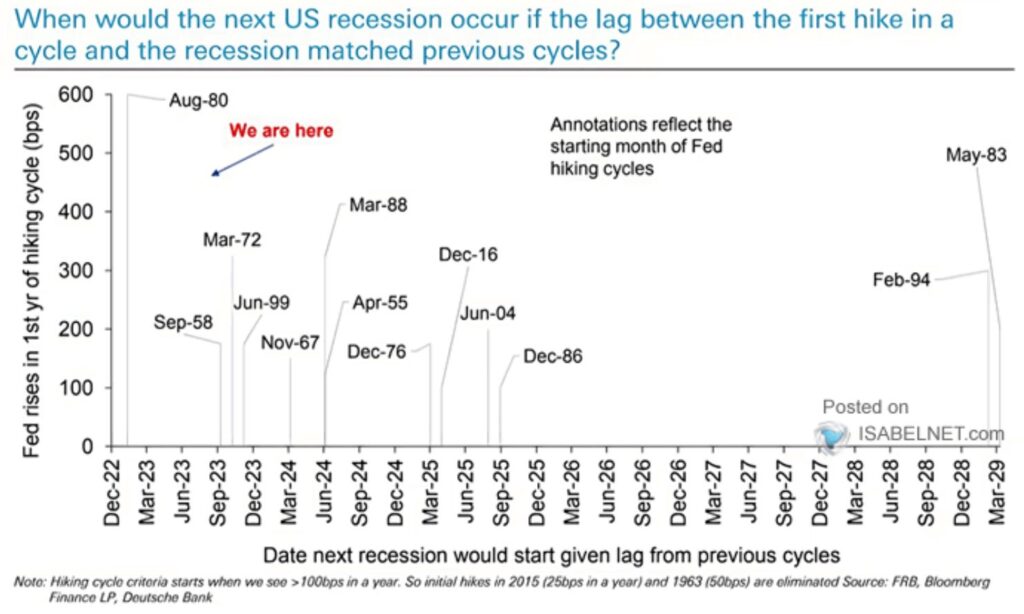 If we were to get a recession tomorrow, it'd be the second fastest since the start of a hiking cycle in the post-war era.
Similarly it has been less than a year since the yield curve inverted, below the historic average lead time to a recession.
The model we've been operating on for a couple of years is that we're stuck in the purgatory of an economy that never quite gets the broad recession it needs for a fresh restart and, as a result, markets end up moving around a lot without actually getting anywhere new. It's been a useful model and, vis-a-vis markets, preferences having some well thought out insurance and then focusing on specific, narrow trends, not universal 'macro' ones. We assume we'll be 'here' for a while.