Taps Coogan – August 2th, 2022
Enjoy The Sounding Line? Click here to subscribe for free.
Enjoy The Sounding Line? Click here to subscribe for free.
Back in May, when the consensus was saying that we were unlikely to get a recession before 2023, we wrote a couple articles in which we argued that a recession or recession-scare was coming much sooner, probably by summer.
Fast forward to today and the US economy is in technical recession, though it's debatable whether it is practically in recession given the relative strength in the labor market, manufacturing orders, capacity utilization, earnings, default rates, GDP ex-trade-deficit, etc…
For those who think that the economy is not yet truly in recession (we agree in a narrow sense), note that the more reliable recession indicators are strongly signaling that one is coming soon (if not already here) as the increasingly long inversion of the 10-year vs 2-year treasury spread highlights, via Jeroen Blokland.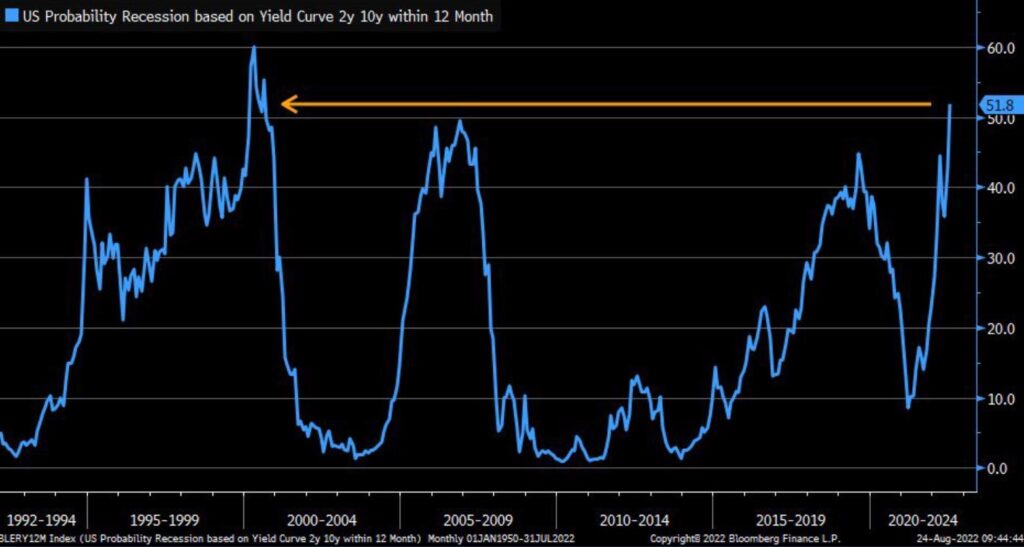 It's worth noting that the two treasury spreads most often used to predict recessions are the 10-year vs 2-year shown above and the 10-year vs 3-month. Oddly, the 10-year vs 3-month has yet to invert and until recently it was actually steepening.
The resulting divergence between the 10y2y and the 10y3m was unprecedented though it is rapidly resolving itself with the 10y3m now nearing inversion.

Despite the negative outlook, there is room for lots of economic indicators to get worse year-over-year without reaching terrible levels in an absolute sense. Indeed the fixation on whether this is a 'recession' or not is probably misplaced in this garbled economic environment.
Real GDP hit 12% annualized last year, corporate earnings jumped 25%, and consumer spending increased massively. Of course things are retrenching. Just how much they retrench is going to be the key for markets. We remain in the 'run of the mill' recession camp.
Would you like to be notified when we publish a new article on The Sounding Line? Click here to subscribe for free.