Taps Coogan – June 3rd, 2021
Enjoy The Sounding Line? Click here to subscribe.
We've been talking about various iterations of the following chart since the earliest days here at The Sounding Line. That's because it's the only chart that has really mattered to global financial markets for the last 13 years. From the look of it, that remains as true as ever.
Via Not Jim Cramer, the following chart highlights the very tight correlation between global stock and bond values and the balance sheets of the world's major central banks: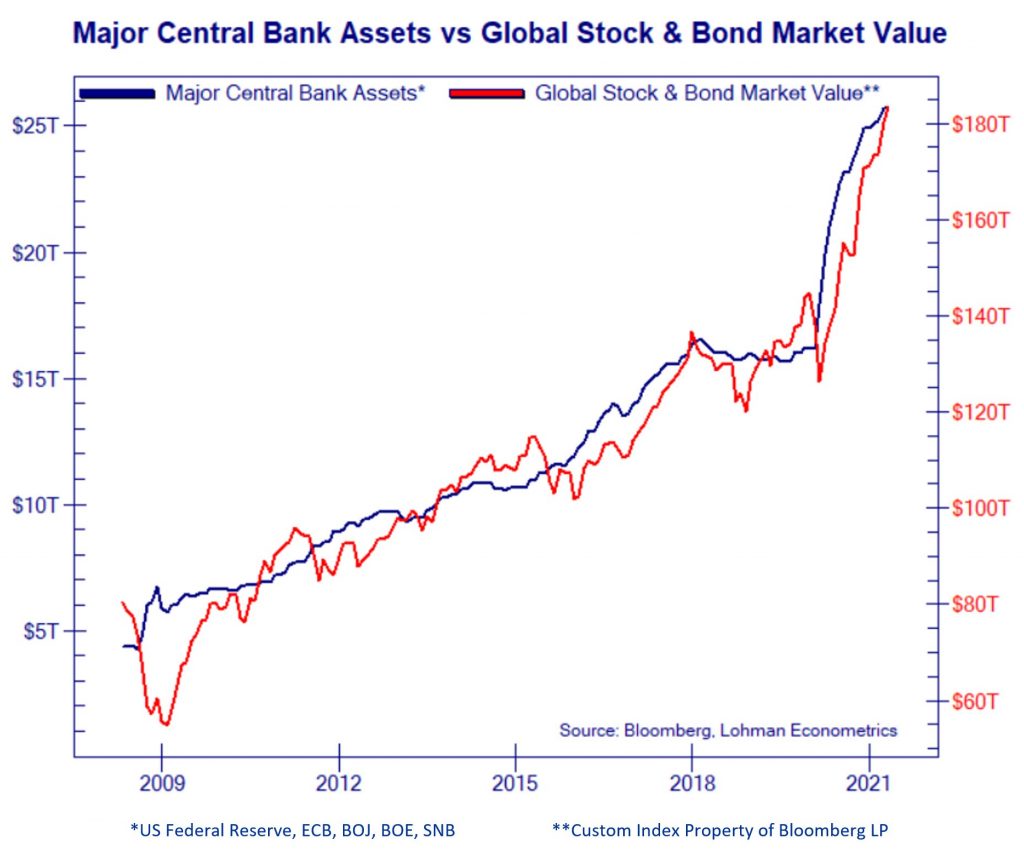 In a sane world, someone would present Jerome Powell with this chart at one of the Fed's press conferences and ask for a reflection on the moral hazard created by using financial asset bubbles as the primary transmission mechanism for monetary policy. Perhaps someone could also ask that one of the Fed's 22,556 employees work up some kind of assessment of the economic cost of the grotesque capital misallocation that it is driving.
Unfortunately, this is not a sane world and nobody expects the media to challenge the Fed's ideological framework.
One of the inevitable side effects of the chart above is the 'Bad News Is Good News' dynamic that reached ludicrous new levels during the Covid pandemic. Of course, that means that 'Good News' tends to be bad news which is why global markets staggered in 2018 as the economy turned in its best performance since the Global Financial Crisis. Why? The Fed was tightening.
That brings us to our final, and oft repeated, point on this subject. The worst thing that could happen to financial markets would the Fed achieving their inflation target. Fortunately for those markets, it is now a moving target.
Would you like to be notified when we publish a new article on The Sounding Line? Click here to subscribe for free.