Taps Coogan – June 2nd, 2021
Enjoy The Sounding Line? Click here to subscribe.
Updated with the latest Post-Covid data, the following 'Debt Snowball' chart, from HowMuch.net, reveals the most indebted governments in the world based on estimates for 2021 debt and GDP.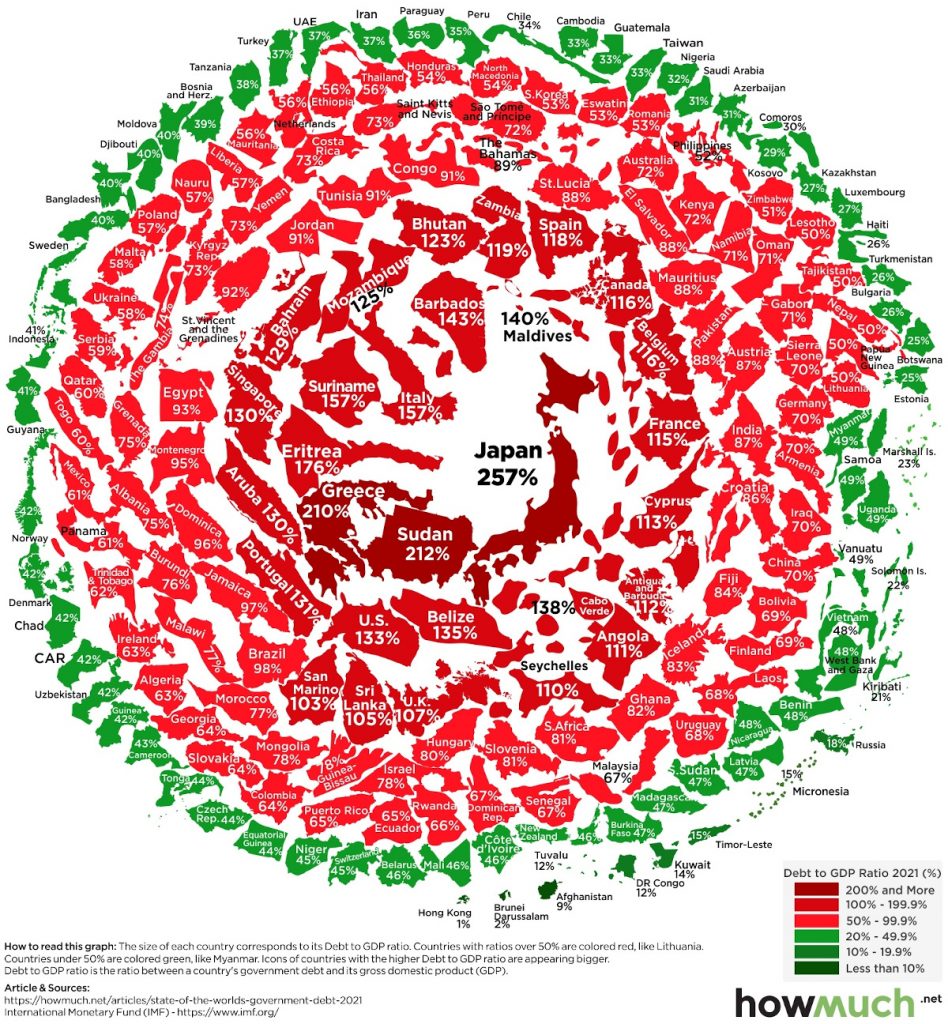 In case you are wondering what the same graphic looked like in 2019, click here. Needless to say, virtually all the numbers have gone up a lot.
Here are the top 10 most indebted governments in 2021:
| Country | Debt to GDP Ratio (Top 10) |
| --- | --- |
| 1. Japan | 257% |
| 2. Sudan | 212% |
| 3. Greece | 210% |
| 4. Eritrea | 176% |
| 5. Suriname | 157% |
| 6. Italy | 157% |
| 7. Barbados | 143% |
| 8. Maldives | 140% |
| 9. Cabo Verde | 138% |
| 10. Belize | 135% |
Of note, several developing markets have surged into the top ten since 2019. Amazingly, that means that the US and several Western European countries like Belgium and France have actually fallen in the rankings compared to 2019, despite their debts surging higher.
Japan has seen its world leading Debt-to-GDP surge from 238% to a dizzying 257%. Sudan has rocketed into second place with 212%, Greece has jumped from 182% to 210%, Eritrea has rocketed to fourth place with 176%, Suriname has surged to fifth with 157%, Italy has jumped from 132% to 157% to clinch sixth place, Barbados comes in seventh with 143%, and so on.
The US comes in at 11th place with a debt that has increased from 105% to 133% of GDP in just a few short years. With trillions upon trillions of deficit spending lined up for the next couple years, we're on pace to edge out way back near to the top of the pile.
Not a single heavily indebted country has seen its debt levels fall compared to 2019. 32 countries now have Debt-to-GDP above 100% and, judging by the increasingly prevalence of fragile developing markets at the top of the pile as well as the complete failure of Southern European countries like Greece and Italy to halt their crisis-inducing Debt-to-GDP ratios, a global sovereign debt crisis is clearly in the cards once the kneejerk part of this recovery fades.
Would you like to be notified when we publish a new article on The Sounding Line? Click here to subscribe for free.