Taps Coogan – February 24th, 2023
Enjoy The Sounding Line? Click here to subscribe for free.
As we stand at the one year mark of Russia's invasion of Ukraine, it is clear that the war has become the highest intensity conflict seen in Europe since World War II. Estimates for military causalities vary widely but are generally believed to be in excesses of 100,000 for Ukraine and nearly 200,000 for Russia. For anyone that's keeping track, that gives this war the sad distinction as one of the higher annualized rates of military casualties for any conflict since World War II. On top of that, tens of thousands of civilian casualties have undoubtedly been suffered, though exact figures are difficult to determine.
Despite this being a war between an aspiring EU member and the EU's former prime energy supplier and despite the fact that is takes place in a country that borders numerous EU countries, the US has become overwhelmingly the largest provider of aid to Ukraine. Decades of defense freeriding on US taxpayers means that several large, wealthy European countries lack the capability and/or will to provide sufficient military support to a conflict in their own backyard.
According to Kiel Institute, the US has provided an estimated $41.7 billion of military aid to Ukraine. The entire EU combined has provided roughly $10 billion in military aid.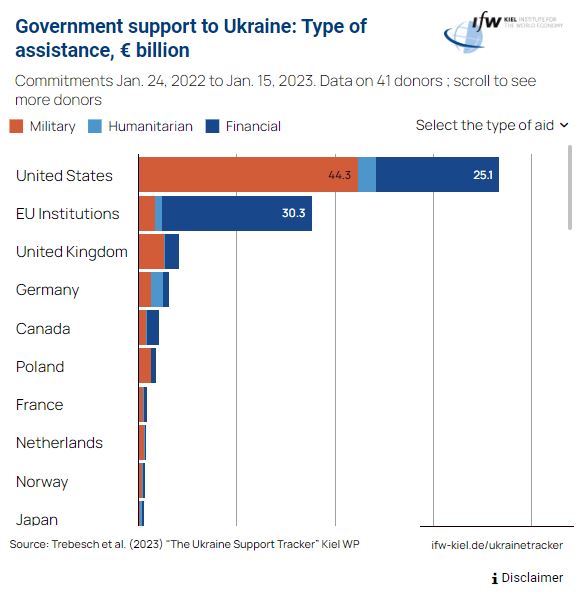 To put the scope of US military aid to Ukraine in perspective, it has exceeded the annualized cost of the War in Afghanistan, as highlighted by the following chart from Statista.
Of course, there are some important caveats to apply. First, the period covering Afghanistan (2001-2010) saw large variations in cost with some years costing much more than the average. Second, there are a lot of costs associated with wars that the US directly participates in that don't show up as specifically designated funds. Third, the US has transferred hundreds of antiquated weapons, such as Vietnam-era M113 armored vehicles, pre-Vietnam MIM-23 HAWK air defense systems, etc… that, while they have an accounting value and usefulness to the Ukrainians, were going to be retired out of US inventories. Those items count towards the total cost of donations of Ukraine but were basically 'worthless' to US forces.
Nonetheless, on top of the extreme human cost, the financial cost of the Ukraine War is high. Without dramatically higher levels of military aid from EU countries (and it's questionable whether the capability even exists for them to do so), one has to wonder how long the political will can be maintained in the US to supply Ukraine at the intensity required for them to sustain battlefield victories.