Taps Coogan – July 4th, 2022
Enjoy The Sounding Line? Click here to subscribe for free.
Today the data officially confirms what we first forecast in early June, Germany's balance of trade has turned negative in May for the first time since reunification (1991).
The culprit is the soaring cost of Germany's energy imports. As the following chart from Fabien Bossy highlights, Germany's loss is Russia and Norway's gain.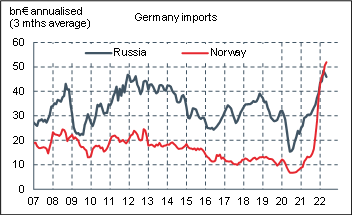 Despite the focus on the impact of the war in Ukraine, Brent Crude was at $99 a barrel before Russia invaded. Brent is only up about $12-a-barrel since the February 24th invasion. The all-time high on European natural gas was made last December.
While the war in Ukraine has exacerbated the situation, the cause of surging fuel prices is years of underinvestment in oil and gas production and infrastructure.
That underinvestment is primarily the result of the bad performance of oil and gas companies for most of the past decade thanks to abundant-but-unprofitable ZIRP-subsidized shale production. The demonization and regulatory sabotage of the industry hasn't helped matters either.
In the weeks before the Covid pandemic, we published a slew of articles here at The Sounding Line looking at all the major shale fields in the US and making the case that production growth couldn't be sustained for long without higher prices. That outlook has proven correct.
Why is Germany in particular paying such a heavy price for this?
German policy makers sailed into an energy crisis relying on essentially a single adversarial supplier for energy. They repeatedly shot down plans to open LNG import facilities and interconnection pipelines that would have created supplier diversity and price competition on the now all to obviously false premise that Russian gas was cheaper.
German policy makers greatest sin was failing to understand the difference between dispatchable power and non-dispatchable power. You can have all the solar panels in the world, but if you want to turn the lights on at night, they're useless without battery backup. Similarly wind power produces negligible amounts of electricity for extended periods of time almost every week in Germany. As for battery storage, as we noted a couple months ago:
In 2021, Germany produced 162 TWh of wind and solar in 2021. Optimistic forecasts suggest that global battery production will increase five-fold to reach 5.5 TWh by 2030, 80% of which will go into electric vehicles. That leaves 1.1 TWh for everything else including grid-scale batteries. In other words, backing up Germany's current wind and solar production for a single cloudy windless week will consume three times the entire world's grid-scale battery production capacity in 2030.
In case you are wondering, Germany represents 1% of the global population and about 4% of GDP
We are decades away from grid scale battery storage playing a relevant role in grid-scale energy systems. The mines required to produce the lithium, nickel, and copper to make the batteries don't exist. A new mine can take a decade to bring online.
Despite all of that, Germany went full steam ahead with the early decommissioning of nearly all of its nuclear power plants at the same time as it blocked LNG import terminals, pipelines (except to Russia), and, along with most of the Western World, did everything in its power to try and make oil, gas, and coal production more difficult.
Half of German homes heat with natural gas and a quarter heat with oil. Less than 2% of its passenger vehicles are electric and essentially no commercial transportation or aviation is electric. Without gridscale battery backup, wind and solar have a narrow role to play in society's energy systems.
Nonetheless, Germany decommissioned its once large zero-carbon nuclear power sector without a plan to replace it and doubled down on a single supplier strategy for its oil-and-gas. Now it's paying the price.
Would you like to be notified when we publish a new article on The Sounding Line? Click here to subscribe for free.