Taps Coogan – May 12th, 2022
Enjoy The Sounding Line? Click here to subscribe for free.
I spent most of late 2020 and all of 2021 warning that CPI was going to run hot (here, here, here, here, here, here, here, here, here, here, here, here, here, here, here, here, here, here, here, etc…). Around the beginning of 2022 we started to wonder out loud if we were approaching the peak in year-over-year CPI. The War in Ukraine pushed that peak out, but it is looking increasingly likely that CPI peaked last month.
Along those lines, the following chart from True Insights via Isabelnet shows that the US ISM manufacturing index (purchasing manager index) has unambiguously rolled over.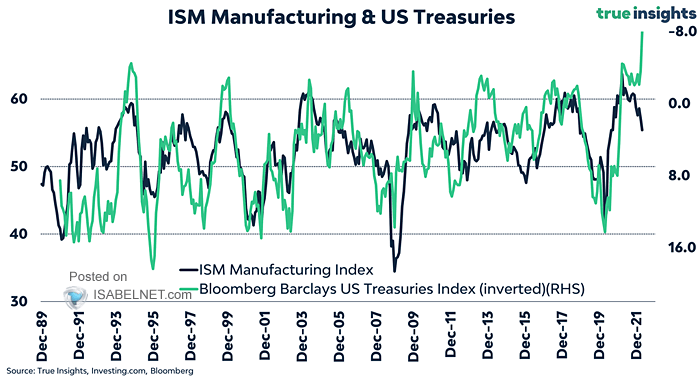 If the economy continues decelerating and demand weakens, yields and inflation should moderate, though inflation is unlikely to get back to 2% anytime soon.
At the time of writing, the S&P 500 is down 18% from the high at the start of the year. Drawdowns much larger than this are quite rare outside recessions. The last two were in 1998 and 1987 and both ended up recovering expeditiously. More often, this sort of drawdown happens immediately leading into and during a recession (immediately meaning a couple of months). Presumably, that is what the market is signaling.
We are not yet in a recession. PMIs are still over 50. Job growth is still positive. Labor participation is expanding. Consumer spending remains above trend. Earnings growth and earnings forecasts are still positive.
Several people I talk to and listen to are forecasting high odds of a recession, but not until next year. That makes sense, but the market is saying that the recession is much sooner. The difference seems to be an expectation by those people that the Fed can soon ease off the brakes once the trend in inflation is lower, giving the market and economy a bit more runway. I tend to agree with them and therefore see increasingly interesting opportunities, but it's contrarian to what the market is signaling. The most straightforward interpretation of what is going on is that we'll be in a recession around the time the Q2 GDP prints.
Would you like to be notified when we publish a new article on The Sounding Line? Click here to subscribe for free.